Rice Cooker
Rice Cooker Peach Upside Down Cake
Save some room for dessert! This peach upside down cake is perfectly spongy and loaded with sweet peaches in every bite.
Servings

3-4

Preparation

10 min

Cooking

45 min
Ingredients
15 oz can Sliced peaches
2 Eggs
2 tablespoon Extra virgin olive oil
1 teaspoon Pure vanilla extract
50 ml Milk or oat milk
3 tablespoon Granulated sugar
150 grams Pancake mix
Directions
Reserve 100ml from the canned peach syrup in a bowl and set aside
Thinly sliced the peaches.
In a bowl, whisk the eggs, olive oil, vanilla extract, milk, and peach juice.
Add the sugar and stir.
Add the pancake mix and stir until you get a smooth batter.
Spray the inner pot with cooking  spray or brush it with oil.
Place the peaches in a circular pattern in the inner pot, covering the bottom. 
Pour the batter over the peaches and close the lid. 
Choose the [Slow Cook] function and set the timer for 45 minutes. Press start. 
Once cooking is complete, serve on a dish.
PEACH UPSIDE DOWN CAKE: DESSERT PERFECTION
At the end of a delicious meal, no matter how full we are – we can always seem to find room for dessert. And we're big fans of desserts that incorporate fruit into the mix.
Whether it's this slow cooker peach crisp or this luscious cinnamon apples recipe fruit desserts just hit the spot with that perfect mixture of naughty and nice.
Well, this rice cooker peach upside down cake is right in the sweet-spot for a peach dessert, with its blend of crumbly cake perfection and syrupy peaches.
We're using canned sliced peaches for this upside down cake. They have the perfect balance of tart sweetness and a texture that's on the softer side of things.
Vanilla extract goes so well with the creamy dairy element. Of course you can use cow's milk – but we've tried this peach cake recipe with oat milk as well, and the results were just as decadent. Extra virgin olive oil makes the perfect stand in for the butter you'd typically use when making a peach upside down cake.
But the real secret to this recipe is using pancake mix instead of cake mix or cake flour. The pancake mix creates a cake that is moist, spongy and just all around extra!
And it's so easy to make in your rice cooker.
HOW TO MAKE PEACH UPSIDE DOWN CAKE IN A RICE COOKER
We've got easy to follow step-by-step instructions in the directions tab on this page – so cook with confidence!
Once the peaches and batter have been poured into the inner pot of your multifunctional rice cooker, you'll use the Slow Cook function for 45 minutes.
The end result is a peach upside down cake with a springy crumb – and sweetness for days. You and your family are going to love it.
And if you don't immediately think of your rice cooker as your kitchen appliance of choice when whipping up tasty desserts at home, we get it.
But we'd like the opportunity to change your thinking!
You see, your Tiger multifunctional rice cooker has settings for all types of food (not just perfect rice).
Products used in this recipe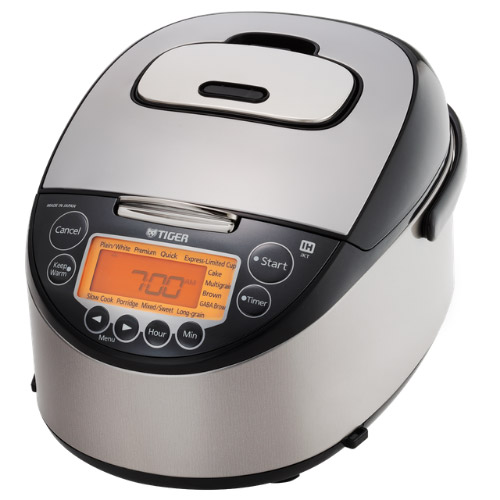 Induction Heating Rice Cooker JKT-D10U/18U
Made in Japan The TIGER JKT-D multi-functional induction heating (IH) electric rice cooker allows yo […]
LEARN MORE