Rice Cooker
Slow Cooker Peach Crisp
There's always room for dessert, right!? This slow cooker peach crisp is the best of all worlds. Ripe peaches with a crispy crumble – topped with your favorite ice cream. It's as good as it gets!
Servings

3-4

Preparation

20 min

Cooking

120 min
Ingredients
1 tbsp Butter, softened
3-4 ripe Peaches, peeled and sliced
1 tsp Cornstarch
1 tbsp Brown sugar
½ tbsp Lemon juice
¼ tsp Cinnamon
1 tsp Vanilla extract
½ cup Flour
⅓ cup Brown sugar
1/2 tsp Baking powder
¼ tsp Baking soda
½ tsp Cinnamon
⅛ tsp Nutmeg
1 cup Old fashioned oats
¼ cup Chopped pecans or walnuts
3 tbsp Butter, cubed
pinch of Salt
Directions
Mix peaches, cornstarch, brown sugar, lemon juice, cinnamon and vanilla extract in a bowl. Place in the inner pot of rice cooker.
Whisk together flour, brown sugar, baking soda, baking powder, cinnamon, nutmeg, salt and oats. Mix in cubed butter until butter is cut into crumbs. batter evenly over peaches in the inner pot.
Place inner pot in the rice cooker. Select the [Slow Cook] menu and set for 120 minutes. Press the [Start] key.
When cooking is complete, use a toothpick to make sure the batter and peach are cooked. Serve on a deep dish with ice cream of your choice.
A DELICIOUS DESSERT – ONE OF OUR FAVORITE PEACH RECIPES OF ALL TIME
No matter how full you are at the end of a fantastic meal, there's always that soft inner-voice suggesting, hey, let's have dessert! Well, sometimes that voice is louder than usual. When it comes to this peach crisp recipe, that voice is at full volume! And with good reason.
This peach dessert is sweet without being cloying – and is topped with a cinnamon and nutmeg laden mixture of flour, brown sugar, chopped nuts, oats and butter. The topping provides a wonderfully crispy texture to this fruity dessert.
Now, we're using ripe peaches for this rice cooker peach crisp. We find that they work best when they're peeled. You could use canned peaches in a pinch – however that might make the overall dessert a bit too sweet.
Taking a bite of this fruity peach crumble with a bit of creamy vanilla ice cream on your spoon is guaranteed to transport you to dessert nirvana!
HOW TO MAKE PEACH CRISP IN A RICE COOKER
Simply layer your peach mixture in the inner pot of your Tiger rice cooker. (Check the ingredients tab on this page for exact measurements). Then mix the ingredients for your crumble and place on top of the peaches.
Since you'll only need to select the Slow Cook setting and press the Start key, you'll truly be cooking with the press of a button. Super easy!
And, hey… as you know, your Tiger multi-functional rice cooker is a capable little kitchen appliance, you'll use for far more than just whipping up dinner or a batch of perfect rice.
Enjoy!
Products used in this recipe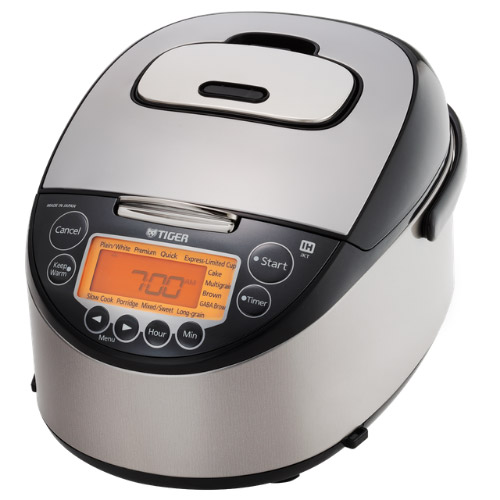 Induction Heating Rice Cooker JKT-D10U/18U
Made in Japan The TIGER JKT-D multi-functional induction heating (IH) electric rice cooker allows yo […]
LEARN MORE