Rice Cooker
Rice Cooker Cheesecake
No matter how full you are, there's always room for dessert! This rice cooker cheesecake is velvety and sweet – and so easy to make at home!
Ingredients
7 oz Cream cheese (left in room temperature)
2/5 cup (U.S. measuring cup) Sugar
3 eggs (left in room temperature)
4/5 cup (U.S. measuring cup) Heavy whipping cream
3 tbsp Cake flour
A pinch Lemon juice
A pinch Salt
Non-salted butter for coating inner pot
Directions
Mix the cream cheese until smooth. Mix in sugar into 2 portions.
Separate the yolk and white of an egg.
Place egg yolk in with the cream cheese batter, along with cake flour into 3 potions. Mix in heaving whipping cream and lemon juice.
In a separate bowl, make meringue by mixing white of egg and salt.
Mix in the meringue with batter.
Coat the inner pot of rice cooker with butter and insert the batter in the pot.
Place inner pot in the rice cooker. Select the [Plain] menu and press the [Start] key.
When cooking is complete, use a toothpick to make sure the cake is cooked. Remove the cake from the inner pot and let it cool.
MAKE A NEW YORK CHEESECAKE IN YOUR JAPANESE RICE COOKER
There's nothing quite like the smooth creaminess of a slice of cheesecake to cap off a great meal. It's an indulgence that is almost always worth the calories!
Something magical happens when you whip up a few humble ingredients like cream cheese, sugar, eggs, whipping cream, flour and lemon juice. Actually, considering the small handful of elements needed for this recipe, the fact that they turn into a silky smooth cheesecake seems like absolute sorcery!
And much like this chocolate and blueberry loaded rice cooker pancake, we've got a method for preparing it that may seem a little… unorthodox.
HOW TO MAKE CHEESECAKE IN A RICE COOKER
To make this yummy cheese cake, whip up your batter and pour it into the (butter coated) inner pot of your Tiger rice cooker. Simply use the Plain cooking preset (yep, that's the one you'd use to make plain rice as well!) and press the Start key.
That's it! Easy peasy.
And when it comes to making desserts in our multi-functional rice cookers, this isn't our first rodeo!
There's always something about digging your fork into a sweet treat that is satisfying beyond belief. But when that dessert was made with minimal effort using the kitchen appliance you might think of last when it comes to making desserts – well, we think that's quite special indeed. 
These are desserts that will taste just as good at the end of a meal as they will at 2am by the light of the fridge door as you sneak a few bites as a midnight snack 😉
Products used in this recipe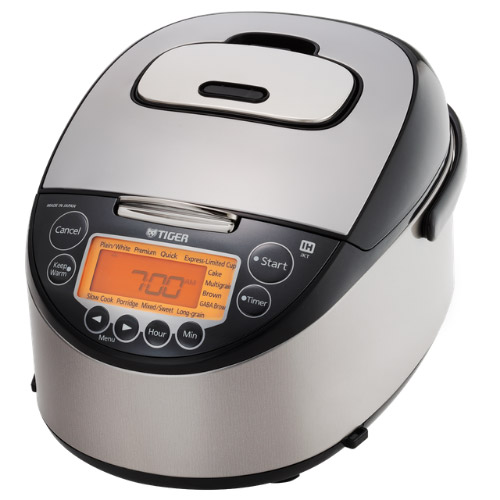 Induction Heating Rice Cooker JKT-D10U/18U
Made in Japan The TIGER JKT-D multi-functional induction heating (IH) electric rice cooker allows yo […]
LEARN MORE