Rice Cooker
Giant Rice Cooker Pancake with Dark Chocolate Chips and Blueberries
Whether you're making brunch or dessert, these rice cooker pancakes with dark chocolate chips and blueberries are going to be a huge hit!
Seriously, mega delicious.
And since you're cooking in your Tiger multicooker, clean up will be super easy!
Servings

1

Preparation

20 min

Cooking

50 min
Ingredients
6 2/5 oz All purpose flour
2 1/3 tsp Baking powder
1 1/3 tablespoon Honey
200ml (4/5 cup) Low fat milk
2 Eggs
3/4 oz 60% Dark chocolate chips
3/4 oz Blueberries
Cooking Oil as needed
Blueberries for topping
Maple syrup for topping
Directions
Bring the eggs to room temperature
Mix and sift all purpose flour and baking powder.
Mix honey, low fat milk, flour and baking powder in a bowl until the powder is fully dissolved.
Add beaten eggs and mix the batter until it becomes smooth.
Mix in chocolate chips and blueberries in batter.
Spray cooking oil inside the inner pot and add the batter. Remove any air from the batter by lifting the pan about an inch from the counter and dropping a couple times. Place a cloth on the counter before doing so to prevent the pot from deforming or damaging.
Place inner pot in the rice cooker. Select the [Cake] menu and set for 50 minutes. Press the [Start] key.
When cooking is complete, remove the pancake from the inner pot and let it cool.
Once cooled, slice and place on a serving plate. Decorate the pancake with blueberries and drizzle with maple syrup.
A DELICIOUS BLUEBERRY AND CHOCOLATE CHIP PANCAKE RECIPE
If you're anything like us, the sight of a giant Japanese pancake loaded with blueberries and chocolate chips sends your heart into full-on flutter mode😋
And that's simply because, whether you're whipping up brunch for friends – or an indulgent dessert for the family, there's nothing better than fruity chocolate pancakes. Full stop.
This pancake kinda defies logic.
You see, it's thick like a cake – and its light and fluffy like an order of traditional buttermilk pancakes.
And it's delicious on its own… Although a pat of butter and a drizzle of syrup will send your pancake eating experience into the stratosphere!
HOW TO MAKE CHOCOLATE AND BLUEBERRY PANCAKES IN A RICE COOKER
This is one rice cooker recipe we're super happy to share with you, friends.
You see, whipping up food you might not immediately associate with a rice cooker is something we're passionate about. We want your Tiger multi-cooker to be your go-to kitchen appliance no matter what you're craving.
So whether it's this cheesy bacon and potato frittata for brunch – or this moist carrot cake for dessert, you know you can rely on your rice cooker to get it done!
For this Japanese fluffy pancake recipe, you simply have to make your fruit and chocolate chip loaded batter and place it in the inner pot. Once you select the Cake setting on your JBX-A rice cooker, that's it.
Next thing you know, you'll be serving slices of fluffy pancake and blanketing them in syrup.
Seriously, how easy is that!?
We love cooking with the press of a button. And we can't get enough pancakes in our lives!
That's definitely a win/win!
Products used in this recipe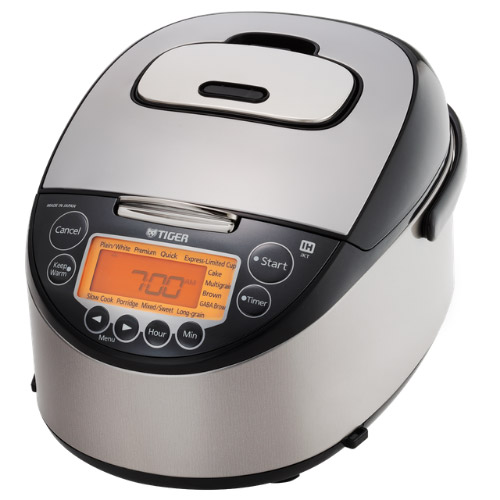 Induction Heating Rice Cooker JKT-D10U/18U
Made in Japan The TIGER JKT-D multi-functional induction heating (IH) electric rice cooker allows yo […]
LEARN MORE