Whether you have a raging sweet-tooth – or just need a bit of sweetness for dessert, this simple carrot cake recipe will do the trick.
And, since you can make it in your rice cooker, you'll literally be cooking with the press of a button!
Servings

1 cake

Preparation

20 min

Cooking

60 min
Ingredients
5 1/3 oz Carrot
1 1/3 oz Walnuts
2 Eggs
4 tbsp Extra virgin olive oil
2 2/3 tbsp Honey
120 ml (1/2 cup) Water
Butter as needed
Powdered sugar for topping
7 3/4 oz All purpose flour
2 1/2 Granulated sugar
2 tsp Cinnamon powder
1 1/3 Ginger powder
1 tsp Baking powder
1/3 tsp Salt
Directions
Shred the carrot and chop the walnuts.
Mix and sift the dry ingredients.
Beaten the eggs in a bowl and add extra virgin olive oil, honey and water. Mix well.
Mix in the dry ingredients until the batter becomes smooth.
Mix carrots and walnuts into the batter.
Place inner pot in the rice cooker. Select the [Cake] menu and set for 60 minutes. Press the [Start] key.
When cooking is complete, remove the pancake from the inner pot and let it cool.
Once cooled to room temperature, slice and place on a serving plate. Sprinkle with powdered sugar on top.
MAKING A SCRUMMY CARROT CAKE FROM SCRATCH
OK… We'll admit to being slightly (erm… highly) addicted to The Great British Baking Show.
Hey, there's no shame in binge watching cooking shows when the baked good look so delicious you can almost taste them through the TV screen.
And after watching yet another forkful of show stopping cake perfection get devoured on TV, inspiration struck.
Yep. We set out to make the best carrot cake recipe. Oh… and we made that carrot cake in a rice cooker!
HOW TO MAKE CARROT CAKE IN A RICE COOKER
You know we're all about making meals you wouldn't normally associate with a rice cooker in our super capable multi-cookers. It's kind of our thing.
And even though most of those recipes fall squarely in the savory category – there's absolutely no reason our genre busting cooking methods can't include dessert!
Because, as fond as we are of things like slow cooker Korean beef and perfectly steamed fish, we have a SERIOUS sweet tooth as well.
It's that very sweet tooth that has prompted us to make vanilla cheesecake and our banana bread flavored steel cut oatmeal in a rice cooker.
So when it comes to this simple carrot cake recipe, you know it's totally doable in your Tiger multi-functional rice cooker, right?!
In fact, in the Tiger JBX-A rice cooker, it's as simple as placing the cake batter into the inner pot and selecting the Cake setting.
There's a nutty sweetness to this carrot cake that is complemented by the warmth of ginger and cinnamon. It's so delicious in fact – that it may just prompt you to grab a slice or two and dig in with wild abandon!
Enjoy😋
Products used in this recipe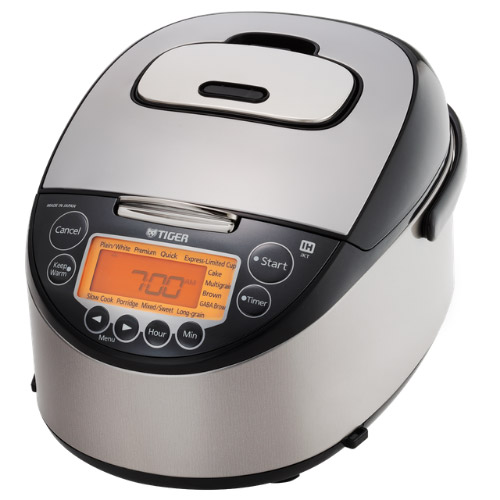 Induction Heating Rice Cooker JKT-D10U/18U
Made in Japan The TIGER JKT-D multi-functional induction heating (IH) electric rice cooker allows yo […]
LEARN MORE