Rice Cooker
Steamed Sea Bream with Doubanjiang (Chili Bean Sauce)
Dinner should be healthy, delicious and exciting!
However, dinner should also be easy. At the end of a long day at work, the last thing you want is a massive project in the kitchen.
Well, as we all know, it can be a bit of a tall order to appeal to the adventurous foodie that lives in all of us, while keeping things mega simple.
Hmmm… we may just have found a bit of common ground here.
You see, this steamed Japanese sea bream with chili bean sauce is packed with assertive, Asian flavor. AND it's a recipe that takes very little time or effort to perfect.
Let's eat!
Servings

2

Preparation
Cooking
Ingredients
2 cups (supplied measuring cup) of  white rice
2 slices sea breams
1/2 oz white leeks (shredded)
1/3 cup lotus roots (sliced and cut into half moon)
1/8 cup carrots (shredded)
1 tbsp ginger (shredded)
1 garlic clove (sliced)
1/2 red chili pepper (diagonally sliced)
1 tbsp doubanjiang (chili bean sauce)
1 tsp soy sauce (dark if available)
1/2 tbsp cooking sake
1 tsp sesame oil
dash of salt and pepper powder
Directions
Place the sea bream pieces on the tacook cooking plate. Scatter the white leeks, lotus roots, carrots, ginger, garlic and red chili pepper over the sea bream.
Pour well-mixed sauce evenly over the ingredients.
Put the washed rice and water in the inner pan and set in the rice cooker.
Set the tacook cooking plate in the inner pan. Select the [Plain/Synchro-Cooking] menu and press the [Start] key.
When cooking is completed, place on the serving plate.
WHAT IS SEABREAM?
The red sea bream is one of Japan's favorite fish. Commonly served raw, broiled, grilled or steamed, seabream is lauded for its mild and succulent flavor.
Fun fact: Red sea bream is called Madai or Tai in Japanese.
The bream fish in this delicious recipe gets the full flavor treatment!
That's right – we're using ginger, leeks and chili peppers as aromatics. However, the lion's share of zing comes from one of the most assertive items in our arsenal of flavors…
Doubanjiang.
WHAT IS DOUBANJIANG?
Doubanjiang (also called douban or tobanjan) is a fiery, savory bean paste made of fermented broad beans, soy beans and spices.
This chili bean sauce originally hails from China – but is commonly used in Korean and Japanese cuisine to impart a bold nutty, salty, earthy spiciness.
Its aggressive flavor works so well as a counterpoint to the mildness of the madai (sea bream).
HOW TO STEAM FISH IN A RICE COOKER
Good news, friends! To easily whip up this Japanese sea bream with rice recipe, all you'll need is your Tiger rice cooker.
Yep – these are capable little machines. In fact, they do so much, we're fond of calling them multi cookers.
Simply place your rinsed rice and water in the inner pot – and then load all the ingredients for the sea bream in the Tacook cooking plate.
When you use the Synchro-Cooking function, your rice simmers to perfection while the cooking vapor from the rice steams your fish at the same time.
You'll love the assertive, savory flavor of this delicately steamed fish. And cleanup is a breeze!
Win/win!
Products used in this recipe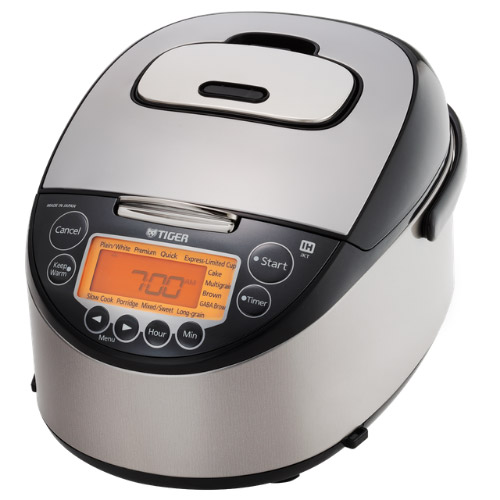 Induction Heating Rice Cooker JKT-D10U/18U
Made in Japan The TIGER JKT-D multi-functional induction heating (IH) electric rice cooker allows yo […]
LEARN MORE