Rice Cooker
Steel Cut Oatmeal
You know how people say, "Breakfast is the most important meal of the day," all the time? Well, we're inclined to believe them!
We always feel about a trillion percent better when we start the day off with a nutritious breakfast.
And this steel cut oats recipe is the breakfast of champions!
With a subtle sweetness, a nutty & creamy texture – packed with healthy ingredients galore – we dare say this is one of the best oatmeal recipes out there. Full disclosure though: we may be slightly biased, ha!
Please feel free to follow along with the step-by-step video.
If you've ever wondered how to cook steel cut oats in a rice cooker, then this one is for you!
Ingredients
1.5 cups steel cut oats
3 cups water
1.5 cups skim milk or almond milk (or other milk of your liking)
2 large mashed ripe bananas, plus additional banana slices for serving
2 tablespoons ground flaxseed meal
2 teaspoon pure vanilla extract
1 teaspoons ground cinnamon
½ teaspoon freshly grated nutmeg
½ teaspoon kosher salt
Banana slices
Toasted walnuts
Shaved almonds
Dried cranberries
Maple syrup
Honey or peanut butter
Directions
Put all the ingredients, except toppings, in the rice cooker, stir well and close.
Use the Oatmeal (Steel Cut) cooking preset.
Serve with toppings.
HOW TO MAKE OATMEAL IN A RICE COOKER
Now, if you're a little on the fence about trying to make oatmeal in a rice cooker for the first time, don't worry!
Your Tiger JKT Rice Cooker has a cooking preset for steel cut oatmeal that will take care of everything after your ingredients are added to the inner pot.
Yep – it's a capable little machine. In fact, we like to call it a multi cooker.
Once your liquid ingredients, mashed bananas, spices and steel cut oats are loaded and mixed – just select the Oatmeal (Steel Cut) preset and press Start.
No need to stir your oatmeal halfway through, or wonder whether it's done. When the timer sounds off, it's ready! Easy peasy. Just load up a bowl and top with a few delicious and healthy oatmeal toppings.
Dig in!
Oh – one tip: real maple syrup is just the best when you're trying to keep it on the healthy side, but want to introduce a bit of sweetness to your oatmeal. YUM!
STEEL CUT OATS VS ROLLED OATS
While the nutritional levels are basically the same, the biggest difference between rolled oats and steel cut oats is their level of processing.
Steel cut oats are simply cut and packaged – while rolled oats go through a steaming and rolling process that renders them flat and quicker to cook.
You'll typically find rolled oats in things like cookies and granola bars and quick cooking breakfast oatmeals.
However, while steel cut oats take a bit longer to cook – they also digest in your body more slowly. This results in you feeling full longer.
This healthy steel cut oatmeal recipe will easily keep you energized and feeling full until lunchtime. Bonus: It tastes great!
Products used in this recipe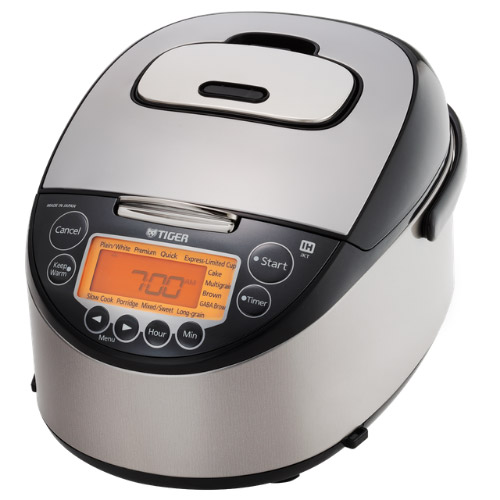 Induction Heating Rice Cooker JKT-D10U/18U
Made in Japan The TIGER JKT-D multi-functional induction heating (IH) electric rice cooker allows yo […]
LEARN MORE