Let's make cake! Blueberry and strawberry topped Japanese sponge cake to be exact.
This easy rice cooker cake is airy, fluffy and sooooo delicious!
Servings

1

Preparation
Cooking
Ingredients
4 Eggs
4 4/5 oz Sugar
4 4/5 oz Cake flour
1 2/5 oz Unsalted butter
Unsalted butter (to be spread in inner pot) as needed
200 ml Heavy cream (dairy)
4/5 oz Granulated sugar
Strawberry as needed
Blueberry as needed
Directions
Bring the eggs to room temperature. Sift the cake flour. Melt the unsalted butter.
Place the eggs and sugar in a bowl and lightly mix.
Warm the bowl in hot water at 104℉ (40℃) and mix the ingredients until the sugar has completely dissolved. Remove the bowl from the hot water.
Beat at high speed using a hand mixer until batter comes thick and white. Whip for 1 minute at a low speed to make it fluffy.
Add cake flour and mix well until the flour dissolves.
Add unsalted butter and mix well.
Lightly coat inner pot with unsalted butter and pour the batter. Remove any air from the batter by lifting the pan about an inch from the counter and dropping a couple times. Place a cloth on the counter before doing so to prevent the pot from deforming or damaging.
Place inner pot in the rice cooker. Select the [Cake] menu and set for 35 minutes. Press the [Start] key.
When cooking is complete, remove the cake from the inner pot and let it cool.
To make the whipped cream, add granulated sugar to the heavy cream and whisk the mixture.
Once cooled, slice and place on a serving plate. Decorate the cake with whipped cream, strawberries and blueberries.
A DELICIOUS AND EASY JAPANESE SPONGE CAKE
Making cake from scratch is one of those things in the cooking world that just feels good.
Because (1) there's nothing better than cake, right?! And (2) crafting a sweet dessert from humble ingredients that absolutely everyone is going to love is one of those cooking moments that all home chefs savor.
Plus this easy cake recipe tastes anything but simple!
There's a mild sweetness from the light and airy sponge – and the creamy topping has pops of fruity perfection with the inclusion of sliced strawberries and plump blueberries.
But the absolute best part of this sponge cake recipe is the feathery, almost ethereal, texture.
The secret to that fluffy texture is beating the eggs and sugar together until they become thick and infused with tiny air bubbles.
And, in case you thought you'd have to fire up the oven to bake this sponge cake, stand down! As you might have guessed, we'll be using our rice cooker instead.
HOW TO MAKE SPONGE CAKE IN A RICE COOKER
Now, it should come as no surprise that your Tiger rice cooker can be used to make a ton of things aside from perfect rice.
With settings for everything from slow cooking to synchronized cooking, these multicookers are capable little kitchen appliances when it comes to simplifying dinner time at your house.
And that set-it-and-forget-it logic applies to dessert as well!
Whether it's this indulgent vanilla cheesecake or this moist and airy carrot cake, you can totally use your Tiger rice cooker to whip up a dessert that will be a family pleaser.
For this easy Japanese sponge cake, simply load the mixed cake batter into the inner pot. If you use the JBX-A multi-functional rice cooker, it's as simple selecting the Cake setting!
When that fluffy and airy strawberry and blueberry topped sponge cake hits the table, it'll be three-cheers-for-the-chef at your place!
Enjoy 🍰😋
Products used in this recipe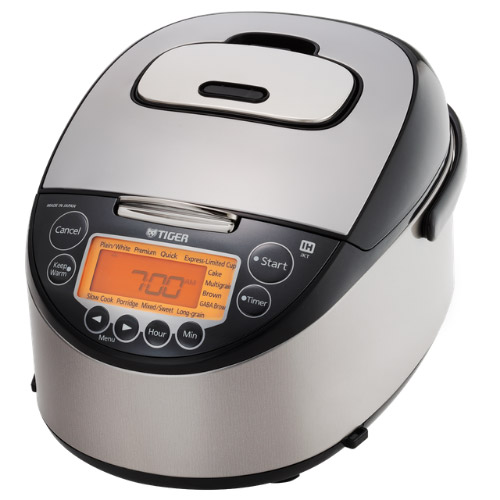 Induction Heating Rice Cooker JKT-D10U/18U
Made in Japan The TIGER JKT-D multi-functional induction heating (IH) electric rice cooker allows yo […]
LEARN MORE