Rice Cooker
Rice Cooker Rice Pudding
It's dessert time! Full of subtle sweetness and dusted with cinnamon, this simple rice pudding has the comforting and delicious flavors of a holiday market in mid December. Best part: you can make this iconic dessert in your rice cooker!
Servings

2

Preparation
Cooking

70 min
Ingredients
https://www.tiger-corporation.com/en/usa/feature/recipe/rice-cooker/rice-cooker-boiled-eggs/
1 cup short grain rice such as arborio (U.S. measuring cup)
2 cups milk
1/3 cup granulated sugar
2 tablespoons honey or pure maple syrup
1 teaspoon vanilla extract
"\xBD teaspoon cinnamon powder, plus extra for topping"
Directions
Rinse rice under running water and drain well.
Put the rice and milk in the inner pot. Select the [Porridge] menu and set the heating time to 70 minutes. Press the [Start] key.
When the machine switches to the \u201CKeep Warm\u201D cycle, add the sugar, honey, vanilla extract, and cinnamon, and stir well.
Close and reset the Porridge cycle for an additional 20 minutes.topped with chopped scallions.
Turn the rice cooker off and transfer the rice pudding to a bowl. Let cool to room temperature and check the consistency. If it\u2019s too thick, add more milk. Serve topped with cinnamon powder, dried fruits and nuts.
THE BEST RICE PUDDING
We've got a sweet spot in our hearts for rice pudding. And one of our all time favorites is Mexican rice pudding – or arroz con leche. The sweetness in that perfect dessert is offset by the subtle bite of cinnamon. We'd say that iconic flavor combination was a stroke of genius for the first person who tried it. And we're obviously glad it caught on!
We've added a touch of vanilla to this comforting and homey dessert. The effect it has on the overall dessert practically makes it taste like the holiday season in a bowl!
HOW TO MAKE RICE PUDDING IN A RICE COOKER
Now, your rice cooker may not be the first kitchen appliance you think of when contemplating whipping up sweet and indulgent dessert recipes at home. But we're here to change all that. You see, your Tiger multi-functional rice cooker is loaded with menu presets that work just as well for dessert as they do for dinner.
Seriously, from this vibrant green pandan cake to this tropical banana cake – to this sweet and tart lemon cake, your Tiger multicooker can actually elevate your dessert game while keeping it mega simple.
For this easy rice cooker rice pudding recipe, just add your rinsed rice and milk to the inner pot. When you select the Porridge setting for 70 minutes, your rice cooker will create the perfect rice pudding consistency without you having to keep an eye on anything. There's something so liberating about taking the guesswork out of cooking, right!?
Once the Keep Warm light illuminates, add your sweetening ingredients and cook for another 20 minutes.
You're going to love the sweet, cinnamon covered creaminess. But the best part will be the smiles on your family's faces when they eat that first spoonful of the homemade dessert you made just for them😍
このレシピで使用した製品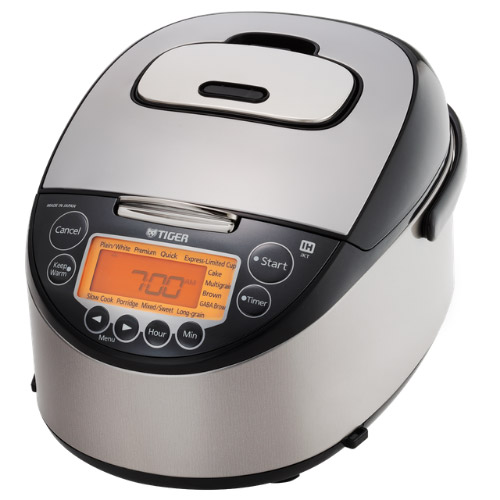 Induction Heating Rice Cooker JKT-D10U/18U
Made in Japan The TIGER JKT-D multi-functional induction heating (IH) electric rice cooker allows yo […]
LEARN MORE