The perfect dessert for those times your sweet-tooth is calling the shots, this pandan cake is not only delicious, it's a sight to behold!
Servings

1

Preparation

20 min

Cooking

50 min
Ingredients
1 ft long Pandan (pananus) leaf
2 1/3 tbsp Water
4 Egg
3/5 cup Sugar
3 1/3 tbsp Coconut milk
Food coloring (green) as needed
1 cup Cake flour
Butter (to be spread in the pot) as needed
Directions
Chop the pandan leaf and mix them with water in a mixer. Squeeze out the water
Mix with coconut milk and food coloring.
Sift the cake flour.
Separate egg yolks from egg whites.
Place the egg whites in a bowl. Gradually add sugar to the egg whites and whip the mixture using a hand mixer until it shows peaks.
Add the egg yolks one by one and mix them using the hand mixer.
Add the cake flour in 3 potions and mix them with a rubber spatula.
Then add colored coconut milk in 2 portions and mix them evenly.
Pour into the lightly buttered inner pot. Remove any air from the batter by lifting the pan about an inch from the counter and dropping a couple times. Place a cloth on the counter before doing so to prevent the pot from deforming or damaging. Place inner pot in the rice cooker. Select the [Cake] menu and set for 50 minutes. Press the [Start] key.
When cooking is complete, remove the cake from the inner pot and let cool. Slice and place on a serving plate.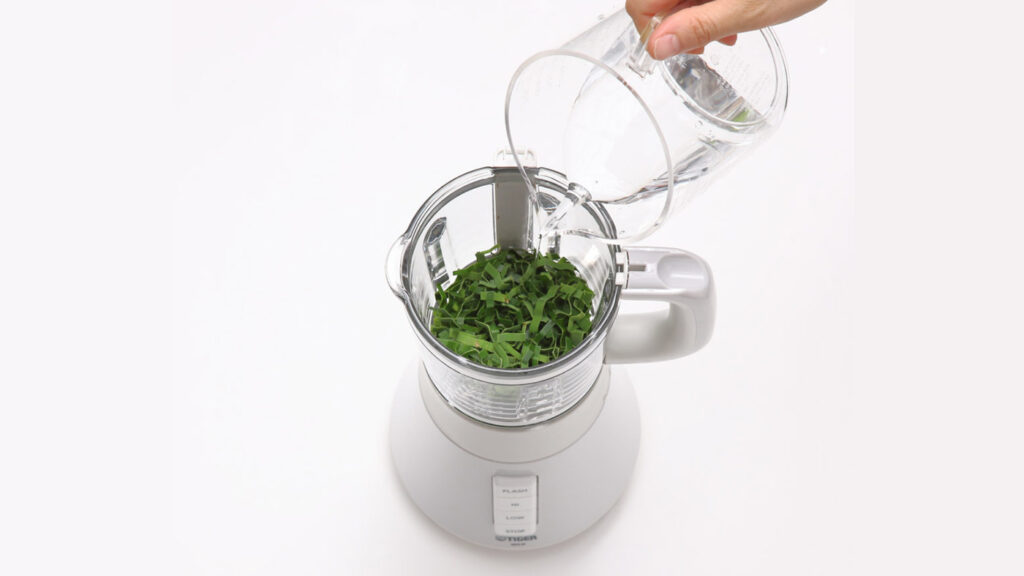 A STRIKING ASIAN CAKE. THE PERFECT DESSERT
If you've ever contemplated the what's for dessert issue that can arise in the home cook's life, we've got the perfect rice cooker cake to shake things up!
Oh, did we mention that it's green!?
But this fluffy and airy dessert is not only cool to look at, it's sweetness is offset by the flavor and color of pandan leaves.
WHAT IS PANDAN?
Pandan is a tropical plant with bright green fan-shaped leaves. And those leaves are widely used in many Southeast Asian cuisines. Overall, the pandan flavor could be described as nutty, almost vanilla with botanical undertones.
And, aside from being used to give this cake a color and flavor boost, pandan is used as a flavor enhancer for the coconut rice used in Malaysia's delicious national dish, nasi lemak.
The leaves are typically sold frozen at many Asian grocery stores – and bright green pandan extracts can sometimes be found, mixed with additional food coloring.
In short: pandan is delicious – and is soooo good in this easy to make cake!
HOW TO MAKE A CAKE IN A RICE COOKER
You know we're not shy about using our rice cookers to make cake!
Because from this delicious banana cake, to this moist carrot cake – even a traditional sponge cake – your Tiger rice cooker is totally up to the task of whipping up a fluffy dessert the entire family will love. Therefore, when the mood for a decadent dessert strikes, you shouldn't hesitate to lean on your multicooker to get the job done.
If you're using your JBX-A multi-functional rice cooker, it's as simple as loading your batter into the inner pot and cooking for 50 minutes on the Cake setting. So easy… and delicious!!
Products used in this recipe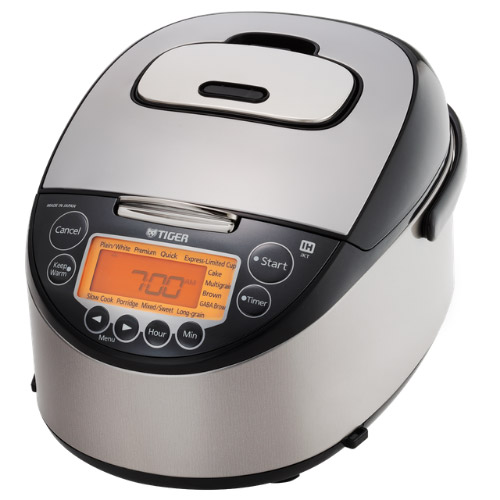 Induction Heating Rice Cooker JKT-D10U/18U
Made in Japan The TIGER JKT-D multi-functional induction heating (IH) electric rice cooker allows yo […]
LEARN MORE