Sometimes the dessert course is the best part of the meal. When it comes to this moist and decadent banana cake, we think your family will be demanding seconds!
Servings

1 cake

Preparation

20 min

Cooking
Ingredients
2 Bananas (well-ripened)
4 Eggs
1 cup Cake flour
½ cup Sugar
3 tbsp Unsalted butter
Unsalted butter (to be spread in the inner pot)
Directions
Return the temperature of eggs to the room temperature, sieve the cake flour and melt the unsalted butter.
Mix eggs and sugar in a bowl and whip the mixture with an eggbeater at a high speed until the sugar melts.
After the mixture turns white, whip at a lower speed for 1 minute.
Add the cake flour and mix with a rubber spatula until no grains of flour can be seen.
Add minced banana and mix gently.
Add unsalted butter and mix.
Pour the batter into the inner pot that is lightly coated with unsalted butter. Remove any air from the batter by lifting the pan about an inch from the counter and dropping a couple times. Place a cloth on the counter before doing so to prevent the pot from deforming or damaging. Select the [CAKE] menu, set the heating time to 60 minutes and press the [START] key.
When cooking is complete, remove the cake from the inner pot, cool down, cut and place on the plate.
HAVE RIPE BANANAS? MAKE THIS EASY CAKE RECIPE
Cake is one of the wonders of the world.
You see, with a handful of simple ingredients like flour, eggs, sugar and butter you can totally whip up a delicious cake at home with very little fuss.
It's delectable alchemy that is as yummy and decadent as it is easy.
Well, add another humble ingredient to that short shopping list, because this banana cake recipe is going to blow you away – both with its outsized dessert perfection – and with the ease of making it at home.
Bonus: it's a wonderful way to use up bananas that are a little too… ahem, ripe to put in the cereal bowl.
Oh, and did we mention that you can make this indulgent cake recipe in your rice cooker?
Well, you can! And we'd bet that, once you try it, this rice cooker cake will be on your dessert menu (and celebration menu) for years to come!
HOW TO MAKE BANANA CAKE IN A RICE COOKER
Sure, your rice cooker makes perfect rice – but cake and your Tiger multicooker go hand in hand as well.
Hey, with all the sweet treats you can whip up in this multi-functional kitchen appliance, it shouldn't surprise you that banana recipes are on that list as well 😋
Because whether you're making cheesecake, a moist carrot cake or this giant chocolate chip and blueberry pancake – your Tiger rice cooker has settings for all types of after dinner goodness.
And when you use your JBX-A multi-cooker, it's as simple as loading your delicious banana cake batter into the inner pot and then selecting the CAKE setting!
Hey there's nothing better than cooking with the press of a button, right?!
Well… eating.
Yeah – eating this moist banana cake is definitely better than anything, ha!
Bon appetit!
Products used in this recipe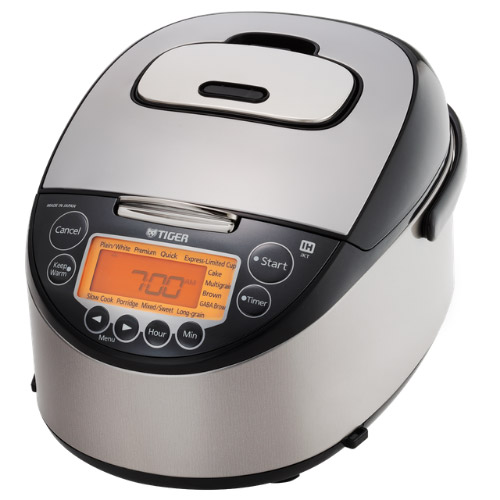 Induction Heating Rice Cooker JKT-D10U/18U
Made in Japan The TIGER JKT-D multi-functional induction heating (IH) electric rice cooker allows yo […]
LEARN MORE