Rice Cooker
Bread Pudding
No matter how full you are, there's always room for dessert. Well, this rice cooker bread pudding is so good it may have you saving a little extra space to make sure there's enough room for a second helping!
Servings

3-4

Preparation

20 min

Cooking

25 min
Ingredients
2 Large eggs
¾ cup Milk or dairy-free milk such as oat milk or soy milk
½ tsp Vanilla extract
2 tbsp Sugar
¼ tsp Cinnamon powder
Crusts from 4 pieces of bread + 2 bread heels, chopped into strips
Oil or cooking spray, to coat the inner pot
Pure maple syrup or honey, for topping
Directions
In a mixing bowl, whisk the eggs, milk, vanilla extract, sugar, and cinnamon powder, and keep on whisking until the sugar has dissolved. 
Add the bread crusts and leave them to soak for 15 minutes. 
Brush the inner pot with oil, or use a cooking spray.
Pour the bread crust mixture into the inner pot,  close the lid and choose the [Slow Cook] function. Set the timer to 25 minutes and press Start.
Serve with maple syrup or honey.
WHAT IS BREAD PUDDING?
Much like it sounds, bread pudding is a bread based dessert made with milk (or a dairy-free milk alternative) and spiced with anything from cinnamon to vanilla to nutmeg.
The bread is mixed with the liquid ingredients and spices and baked or steamed.
Now, we're using bread crusts and the bread heels for this bread pudding recipe because they tend to hold up to the liquid better than the softer center of the loaf. And if you've got a loaf of stale bread at home, this is a great way to use it up before it needs to go into the bin.
Also, we used oat milk for this recipe. It imparted all the indulgent creaminess you'd typically rely on traditional dairy for – but kept it plant based. That said, use whatever you prefer / have handy.
Vanilla and cinnamon lend their exotic essences to the overall dessert – and we found maple syrup makes the perfect ready-made bread pudding sauce.
Deliciousness aside though, you're going to love how easy it is to make in your rice cooker!
HOW TO MAKE BREAD PUDDING IN A RICE COOKER
Whisk your liquid ingredients together and add your bread crusts. After a 15 minute soak, add the entire mixture to the oiled inner pot of your Tiger multifunctional rice cooker.
Simply use the Slow Cook function for 25 minutes – and it's ready to go! Slice and serve with maple syrup (or your favorite topping like honey, caramel or a more audult whiskey based sauce).
Everyone will be wanting seconds for sure!
Products used in this recipe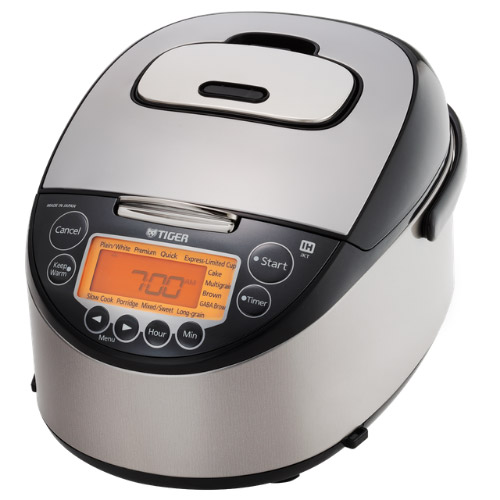 Induction Heating Rice Cooker JKT-D10U/18U
Made in Japan The TIGER JKT-D multi-functional induction heating (IH) electric rice cooker allows yo […]
LEARN MORE