Rice Cooker
Fireside Hot Chocolate
Beat the winter chill and cozy up with this rich, sweet and satisfying fireside hot chocolate. It's the drink equivalent of a warm blanket on a cold day!
Servings
Preparation

10 min

Cooking

45 min
Ingredients
4 tbsp Unsweetened cocoa powder
4 cups Unsweetened or vanilla almond milk 
1 8-oz Can lite coconut milk 
2 tbsp Brown sugar
½ cup Hazelnut spread such as Nutella
Ground cinnamon for sprinkling on top
Whipped cream
Directions
Add cocoa powder to the rice cooker's inner pot and pour a little almond milk (about 3-4 tablespoons). Using a wooden or plastic spatula, stir until the cocoa powder has dissolved.
Stir in the remaining almond milk and add the coconut milk and sugar.
Choose the [Slow Cook] function and set the timer to 40 minutes. Press start.
Scoop out about 1 cup of the hot milk and mix it with the nutella. This will help soften the hazelnut spread.
Add the hazelnut spread mixture to the inner pot and stir until it has completely dissolved.
Serve with a sprinkle of ground cinnamon and some whipped cream.
A RICH HOMEMADE HOT CHOCOLATE RECIPE. NO HOT COCOA MIX REQUIRED
If you've ever wondered how to make hot chocolate without using a hot cocoa mix… Well, this one's for you!
This rich hot cocoa recipe contains a mixture of luxurious ingredients that form a flavor you just can't get from a packet. We started with unsweetened cocoa powder and unsweetened almond milk for the base (don't worry, it'll definitely be sweet!). Light coconut milk delivers an almost tropical essence and brown sugar brings a bit of understated sugary pop to the mix.
We used whipped cream and cinnamon for a silky, spiced topping. But the real star of the show from a flavor AND texture perspective is a hefty portion of hazelnut spread. You see, Nutella has a nutty sweetness and a creamy quality that punches this hot cocoa recipe up and provides a satisfying richness. It's our secret hot chocolate ingredient.
And this recipe is so easy to make from scratch!
HOW TO MAKE HOT CHOCOLATE IN A RICE COOKER
Now, you may not immediately associate your rice cooker with a batch of creamy hot cocoa. But it turns out that the Slow Cook setting on your Tiger multi-functional rice cooker makes it the perfect tool to use when the urge for a chocolate fix arises.
The almond milk, cocoa powder, sugar and coconut milk meld together during the cooking process and create deep layers of flavor. After cooking, the addition of the hazelnut spread bumps that flavor up another few notches. The cinnamon and whipped cream are just the icing on the proverbial cake 😂
You and your family are going to love it!
So get seated around the fireplace this winter – and fill your mugs to the brim.
Products used in this recipe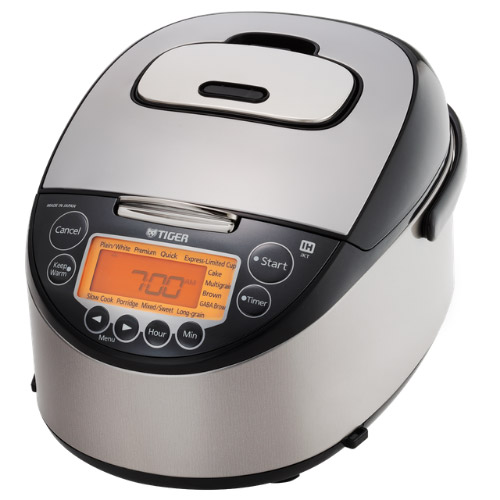 Induction Heating Rice Cooker JKT-D10U/18U
Made in Japan The TIGER JKT-D multi-functional induction heating (IH) electric rice cooker allows yo […]
LEARN MORE