Rice Cooker
Cinnamon Apples
Whether you're looking for a sweet and tart topping for a cake, or are just as happy to eat stewed cinnamon apples by the spoonful, this recipe is as easy – and delicious – as it gets!
Servings

3-4

Preparation

20 min

Cooking

55 min
Ingredients
6 Tart apples, such as Granny Smith apples, peeled, cored, and chopped into half moon pieces
3 tbsp Honey
1/2 cup Brown sugar
1 tbsp cinnamon
1/8 tsp nutmeg
3 tbsp Cornstarch
2 tbsp Butter
2 tbsp Chopped walnuts
Directions
Spray the rice cooker inner pot with cooking spray.
In a large bowl, add all the ingredients except for the butter and chopped walnuts, and mix well, until the apples are evenly coated. 
Add the mixture to the rice cooker inner pot and close the lid. 
Choose the [Slow Cook] function and set the timer to 45 minutes. Press Start.
When the cooking is done, open the rice cooker and stir in the butter and walnuts. Close the lid and leave for 10 minutes.
Serve with ice cream or cookies.
CINNAMON APPLE: A CLASSIC FLAVOR PROFILE
Apples and cinnamon go hand in hand like bread and butter. And there's nothing better than an apple recipe that can pull double duty as a topper for a cake for dessert – or in your steel cut oatmeal at the breakfast table as a little energy booster for the day to come.
We're using tart apple slices for this recipe – because they contrast the sweetness with just the right amount of pucker. Granny Smith apples work best – but you could use pink lady apples as well in this apple dessert recipe.
Honey and brown sugar are the one-two punch in the sweetness department, while steering well clear of drifting into cloying territory. Nutmeg and cinnamon bring warm, woody and dry spiced notes to the mix.
And walnuts deliver a fantastic pliant crunch and contrasting texture to the otherwise soft dessert.
What's even better… you can easily make this warm, comforting cinnamon apples recipe in your rice cooker.
HOW TO MAKE CINNAMON APPLES IN YOUR RICE COOKER
To get started simply mix your apple slices, sweeteners and spices together in a bowl (everything EXCEPT the butter and chopped walnuts).
Place the mixture into the inner pot of your Tiger multifunctional rice cooker and use the Slow Cook setting for 45 minutes.
Once the timer sounds off, add your butter and walnuts and stir well.
Everyone will be asking for seconds of these warm, cinnamon apples – and you'll be the hero of the dessert game. Well done, chef!
And if you're having a tough time seeing your rice cooker as a tool for cooked apples, just have a look at this amazing apple butter recipe. We think you're going to love it just as much as this sweet-tart stewed apples!
Products used in this recipe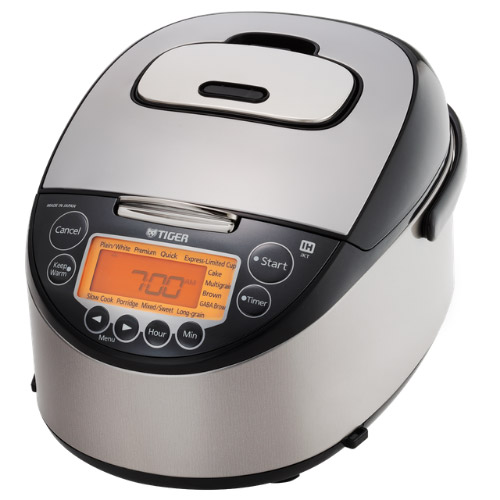 Induction Heating Rice Cooker JKT-D10U/18U
Made in Japan The TIGER JKT-D multi-functional induction heating (IH) electric rice cooker allows yo […]
LEARN MORE