Let's hear it for homemade cake recipes that don't require an oven. This sweet and moist caramel cake recipe will have everyone around the dinner table licking their forks and asking for another slice!
Servings

3-4

Preparation
Cooking
Ingredients
100g All-purpose flour
Caramel, 5 squares
50ml milk or oat milk
2 large eggs
70g cane sugar
1 teaspoon baking powder
50g grapeseed oil
Directions
Sift the flour into a bowl and set aside.
Place the caramel and milk in a microwave safe bowl and microwave for 25 seconds. Stir and microwave for 10 seconds. Stir again and repeat in increments of 10 seconds until the caramel has completely dissolved.
In a separate bowl, beat the eggs and sugar together until the color is a pale yellow. Stir in the flour and mix until the batter is smooth.
Add the caramel milk to the batter and mix until combined.
Pour the batter in the inner pot of the rice cooker.
Close the lid and choose the [Plain] function. Press start.
Once cooking is complete, serve on a plate.
A HOMEMADE CARAMEL CAKE (ACTUAL BAKING OPTIONAL)
Dessert time can be the best part of any meal. However making desserts from scratch can seem like a fairly laborious task to tack on to any homemade spread.
Therefore, sometimes it's easier to just pick up something store-bought and make due.
Well, we're here to change all that!
You see, this homemade caramel cake has all the moist sweetness you want from an indulgent dessert – but won't require a spin in the oven before it lands on the dinner table.
When you make this homemade cake recipe, you'll be cooking with the press of a button!
HOW TO MAKE CARAMEL CAKE IN A RICE COOKER
Simply follow the instructions in the recipe tab on this page to whip up your cake batter and your caramel milk mixture. Once you've mixed those elements together, add them to the inner pot of your rice cooker.
Select the Plain setting (yep, that's the setting you use for making rice!) and press the Start key.
Now, who said making cake from scratch can't be EASY!
From pancakes to cheesecake, your Tiger multifunctional rice cooker is a great tool to use when it comes to 'baking' without the oven. Hey – during the summer months you're probably not firing up the oven because it's a billion degrees outside and you don't want to add to the steamy misery!  
Rest assured, your rice cooker will keep your kitchen cool – and cater to your sweet tooth at the same time.
Products used in this recipe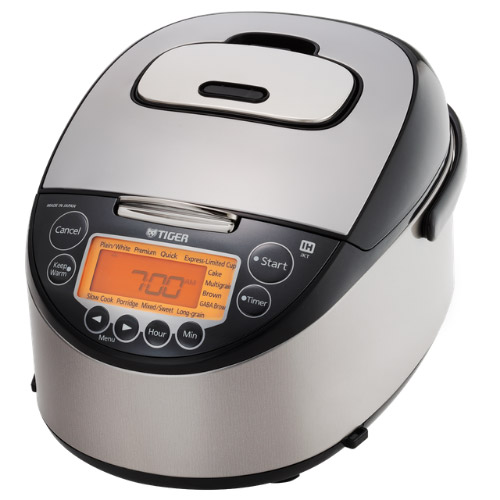 Induction Heating Rice Cooker JKT-D10U/18U
Made in Japan The TIGER JKT-D multi-functional induction heating (IH) electric rice cooker allows yo […]
LEARN MORE