Recipes
8 Slimming Rice Cooker Recipes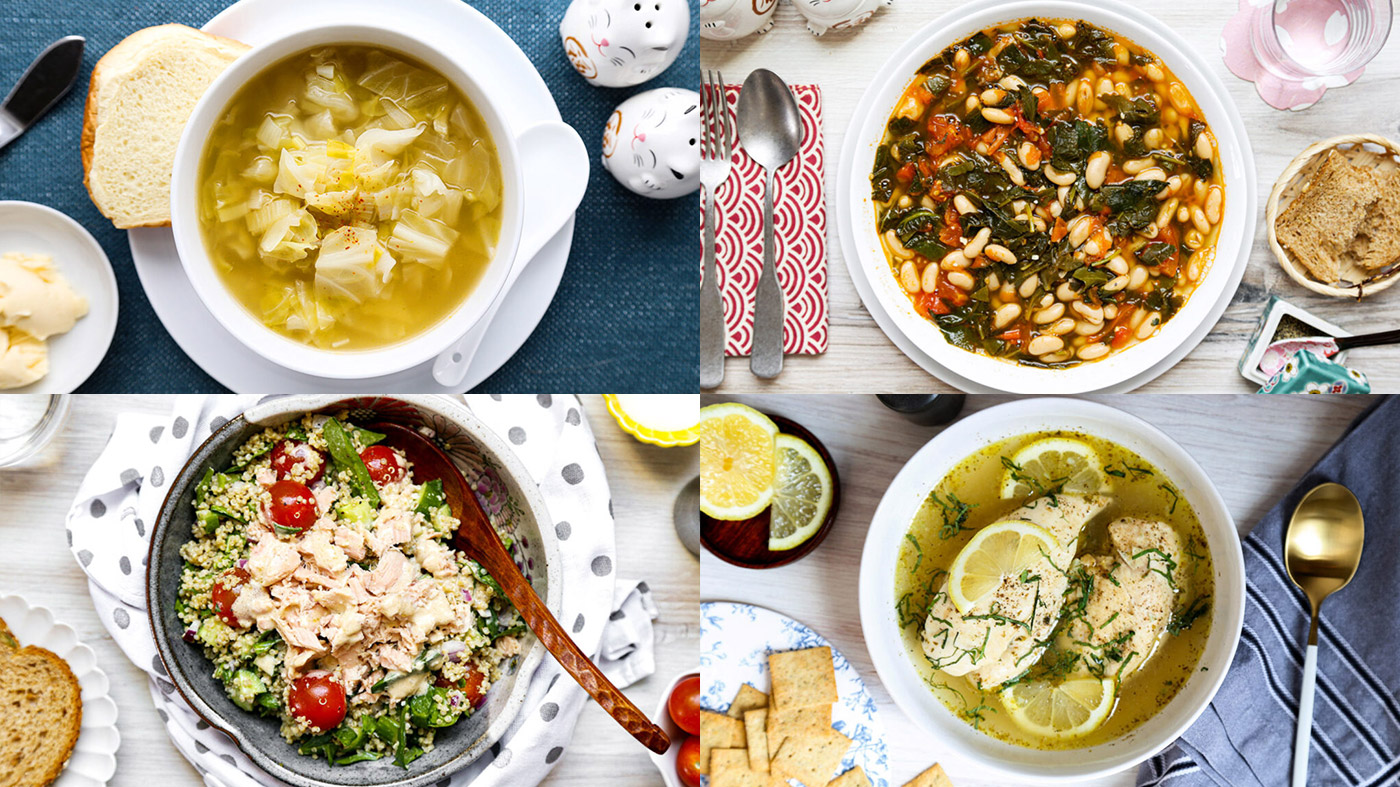 Rice cookers these days have so many different functions and can provide a delicious family meals with minimal prepping a cleanup. In this roundup we show you how versatile cooking with rice in a rice cooker can be! Here are 8 of our favorite rice recipes – from creating a simple flavored rice, a healthy soup, or something sweet for dessert, these family friendly dishes are colorful, tasty, and fun to eat!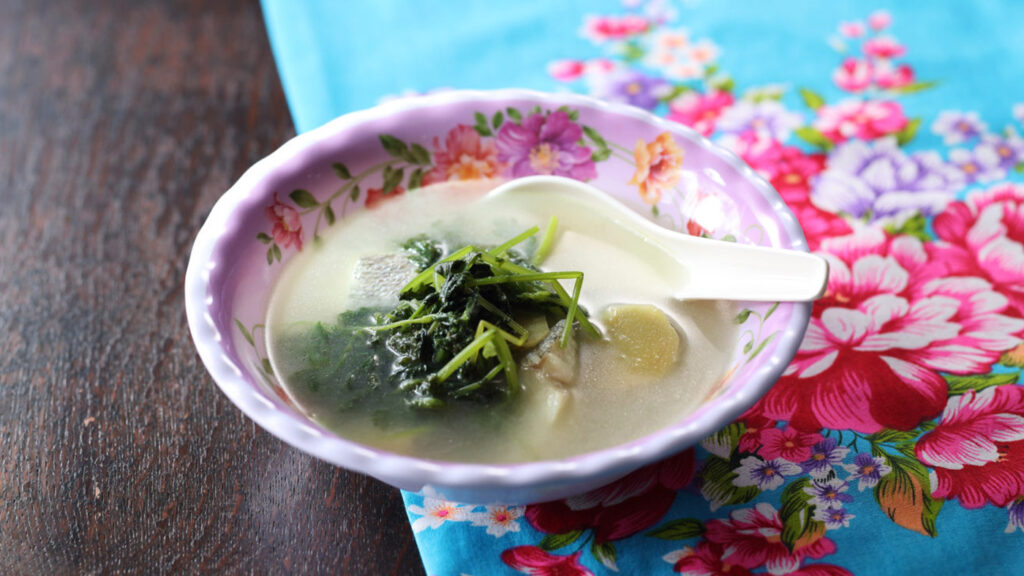 Coriander Fish Soup
Make this savory, bright and fresh coriander fish soup with just a few humble ingredients. This fish soup is mild in flavor and light in calories, and very easy to make. Use your favorite white fish and load the soup with plenty of fresh coriander. Delicious!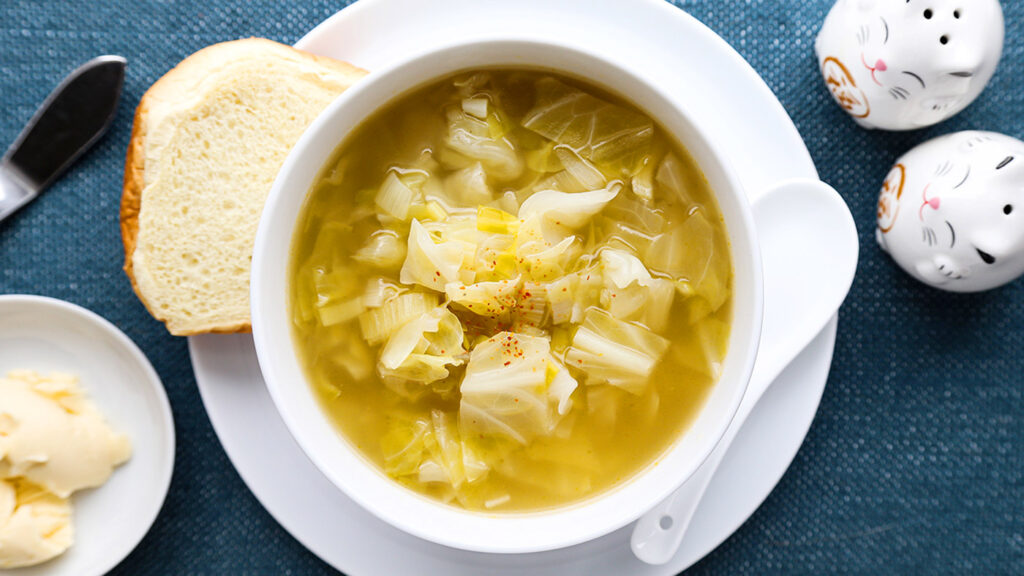 Fat Burning Cabbage Soup
Whether you are on the cabbage soup diet or just need a dose of comfort food, this is one of our favorite recipes with cabbage! The onion and ginger lay down a base of sharp heat that is tempered by the chicken broth (you can also use veggie broth if you're following a vegan diet). Cabbage and green pepper provide substance – while still keeping it lean. And our favorite addition is a pinch of cayenne pepper powder for a tiny bit of fire.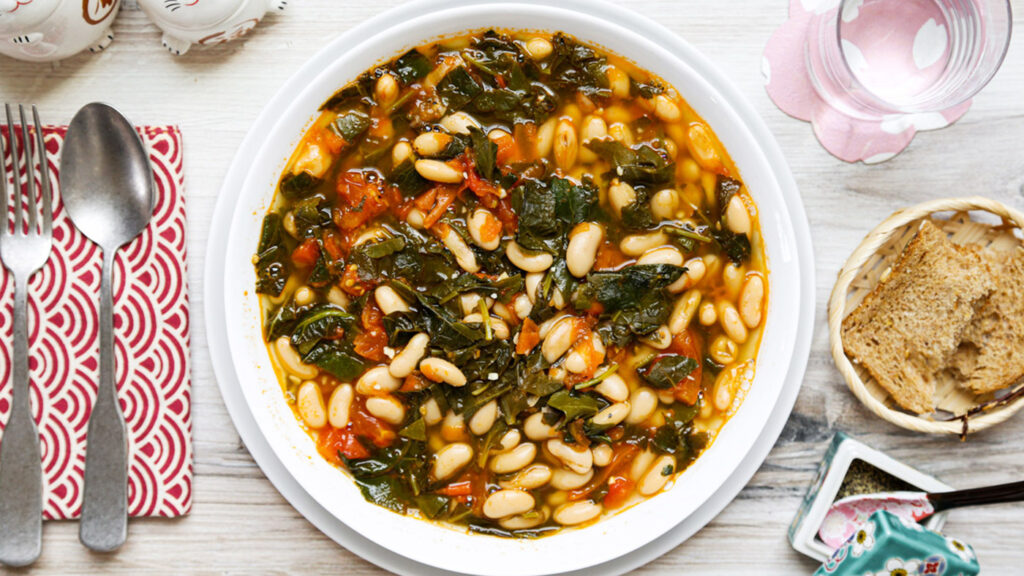 Kale and Tomato Bean Stew
This kale and tomato white bean stew delivers a one-two punch of bright and savory heartiness. The combination of tomato and kale is evocative of a breezy seaside terrace somewhere along the Mediterranean coast. White beans are low in fat and high in protein. Therefore, they are the perfect ingredient to enjoy when eating light because they are filling yet low in calories.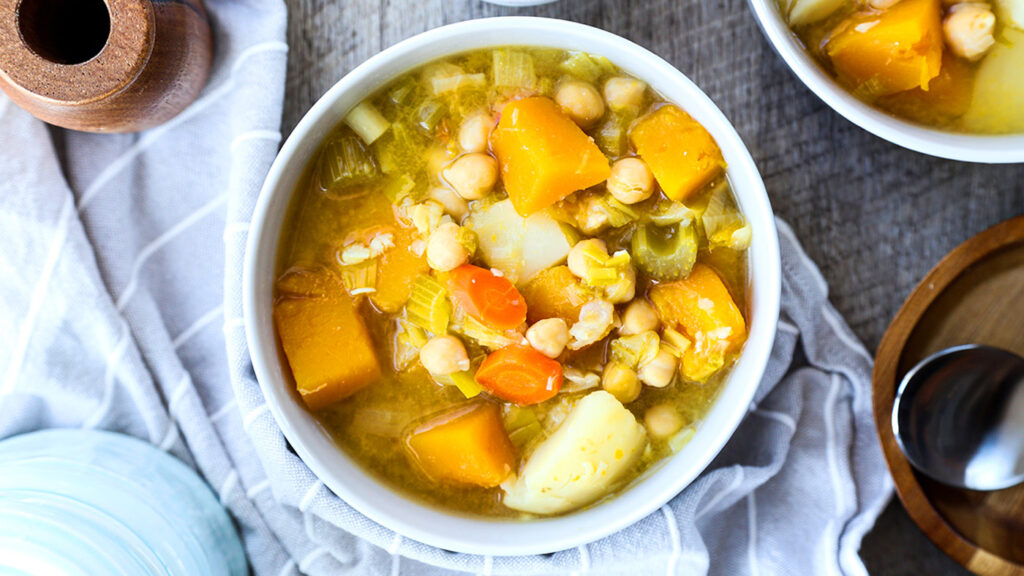 Slow Cooker Vegetable Stew
This vegetable stew runs the gamut in terms of familiarity and flavor. Think of it as possessing the flavors of a hearty vegetable casserole – but in a form closer to a vegetable soup. Garlic, leeks, celery and carrots provide a wonderful fragrant base of aromatics that play nicely with the mild sweetness of butternut squash. Navy beans impart a rustic thickness to the diced tomatoes and chicken broth. We're huge fans of this savory yet bright veggie stew. Yep… we think you're going to love it too. And it's so easy to make!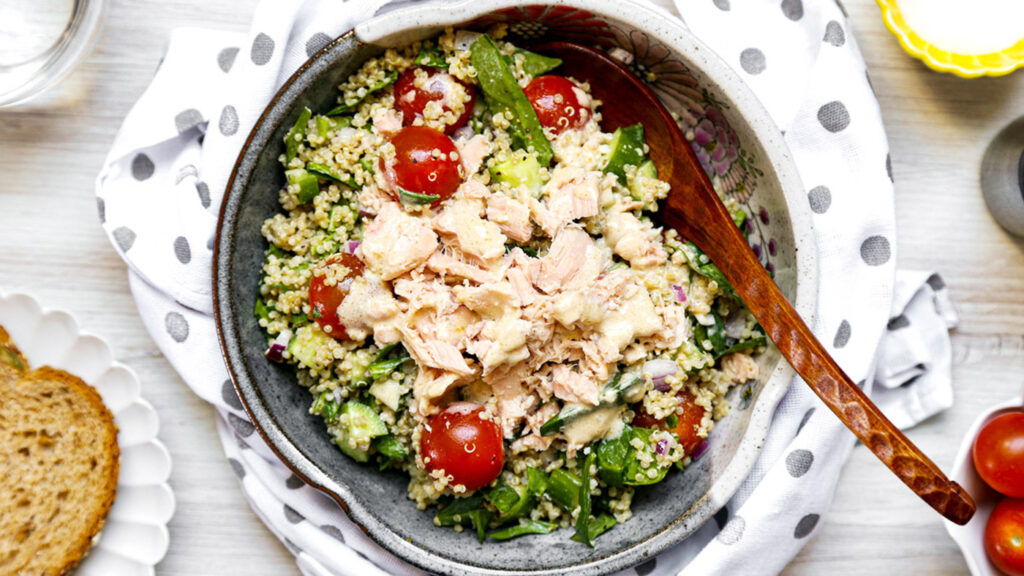 Quinoa Tuna Salad
This quinoa salad recipe has a brightness and depth of flavor that belies how easy it is to make. Nutty quinoa and fresh veggies marry perfectly with canned tuna to create a lunch greater than the sum of its parts. We're using crisp English cucumber and cherry tomatoes for a pop of bright color and garden goodness. Chopped red onion delivers texture and a sharp contrast to the verdant baby spinach. The combination of quinoa and tuna are a one-two-punch of protein necessary to power you through a long day at work or school.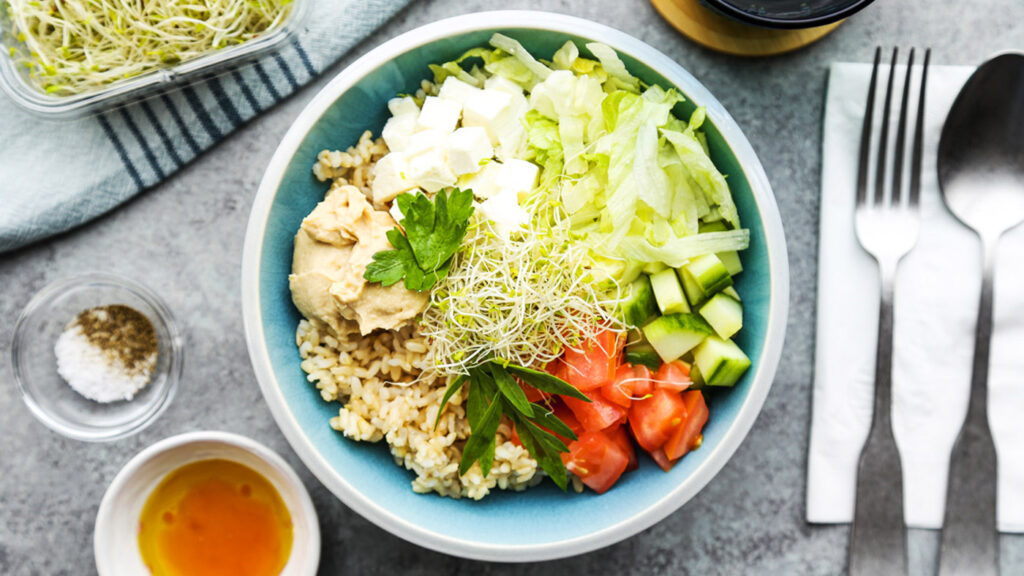 Mediterranean Rice Bowl
This rice bowl is an all-in-one meal that features a bed of lightly flavored brown rice piled high with fixings you might find at a sunny farmer's market in Corfu.
Creamy hummus, bright tomato, crunchy cucumber and savory feta cheese mix perfectly with sprouts, Kalamata olives and flat leaf parsley. And a light, simple vinaigrette of olive oil and red wine vinegar contribute flavor without taking away from the clean perfection of the dish as a whole. And you're going to love how easy it is to make from scratch!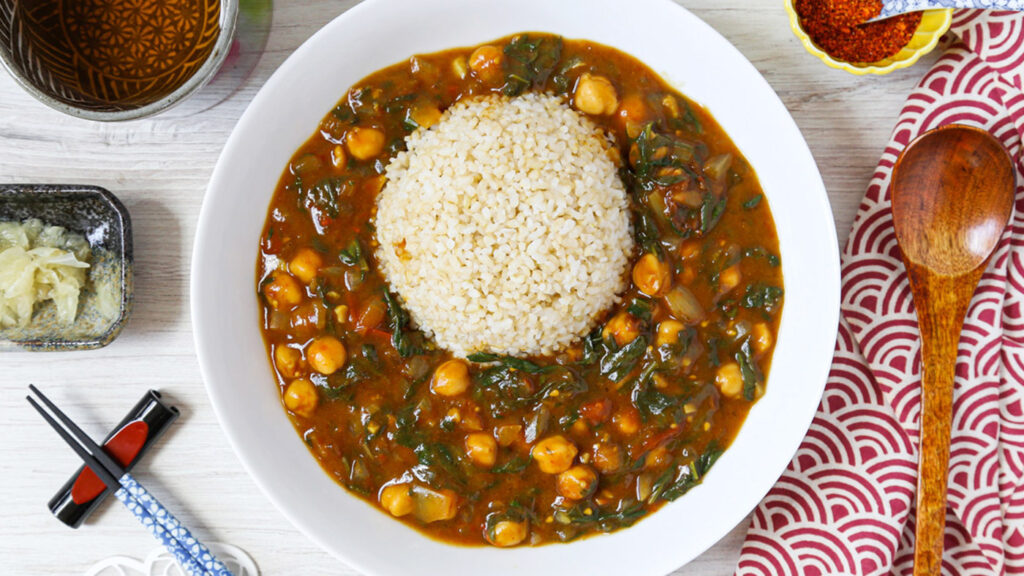 Spinach and Chickpea Curry Rice
This spinach and chickpea curry rice is a veggie loaded spin on a traditional Japanese curry. While traditional Japanese kare raisu usually includes potatoes, carrots, and beef or chicken, and is served with white rice, this rice cooker curry is a healthier version of it. We're switching meat for chickpeas, using plenty of spinach and are serving it with a side of brown rice. We are also using store-bought curry roux for two reasons:
It makes the cooking process super easy.
It's absolutely delicious!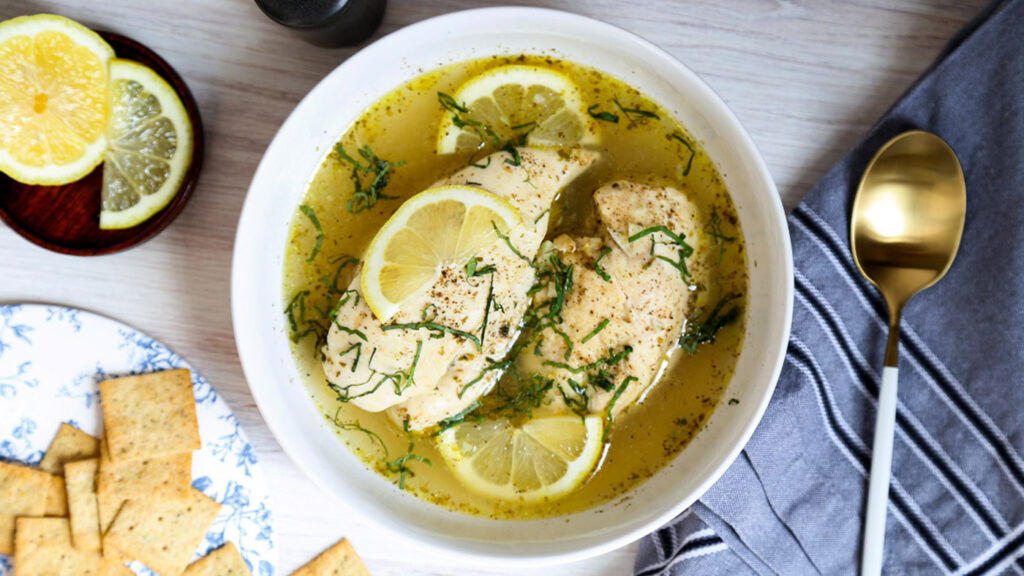 Lemon Chicken
Skinless, boneless chicken breasts are used to make this lemon chicken recipe. It's a lean cut, but doesn't skimp in the flavor department. Minced garlic imparts a pungent note that compliments the small amount of chicken broth that will be the basis of our simple sauce to drizzle on top at the end.
Dried oregano, kosher salt and extra virgin olive oil round out that fresh and rustic flavor profile. And some freshly chopped flat leaf parsley not only makes the completed dish look nice with a pop of color – it introduces a hint of verdant garden freshness to the overall dish. Fresh basil would work nicely too.