Rice Cooker
Slow Cooker Vegetable Stew
Make this hearty and easy slow cooker vegetable stew anytime you need a warming dose of comfort food goodness!
Servings

3-4

Preparation

15 min

Cooking

100 min
Ingredients
2 Garlic cloves, minced
1 Leeks, white part only, chopped
1 Large carrot, peeled and chopped
2 Celery stalks, chopped
2 cups Butternut squash, peeled and seeded
1 Medium potato, peeled and chopped
1 15-oz Can navy beans, rinsed and drained
1 15-oz Can diced tomatoes
3 cups Low sodium chicken stock or water
1 Bay leaf
Directions
Put all the ingredients in the rice cooker's inner pot and stir. 
Choose the [Slow Cook] function and set the timer to 100 minutes. Press start.
Once complete, serve in a bowl with bread.
A DELICIOUS VEGGIE STEW
Stew is one of those rare meals that manages to be nutritious, satisfying and comforting all at once. It can be a reminder of the familiar tastes of childhood – or a new mash up of ingredients you've never tasted together.
But no matter the combination of tasty components, stew is just plain good.
This vegetable stew runs the gamut in terms of familiarity and flavor. Think of it as possessing the flavors of a hearty vegetable casserole – but in a form closer to a vegetable soup.
Garlic, leeks, celery and carrots provide a wonderful fragrant base of aromatics that play nicely with the mild sweetness of butternut squash.
Navy beans impart a rustic thickness to the diced tomatoes and chicken broth. (And if you're looking to prepare a vegetarian stew, simply use vegetable broth).
We're huge fans of this savory yet bright veggie stew. Yep… we think you're going to love it too. And it's so easy to make!
HOW TO MAKE VEGETABLE STEW IN A RICE COOKER
This is the easy part!
Simply load all your ingredients into the inner pot of your Tiger multi-functional rice cooker. You'll use the Slow Cook setting and press Start. That's it!
Your rice cooker will take care of everything, ensuring that the hearty, deep and soulful flavors develop in a comparatively short time. And you don't have to watch a pot on the stovetop. Great after a long day at work or school.
Grab a glass of wine and a book – and kick your feet up. You've earned a break!
Products used in this recipe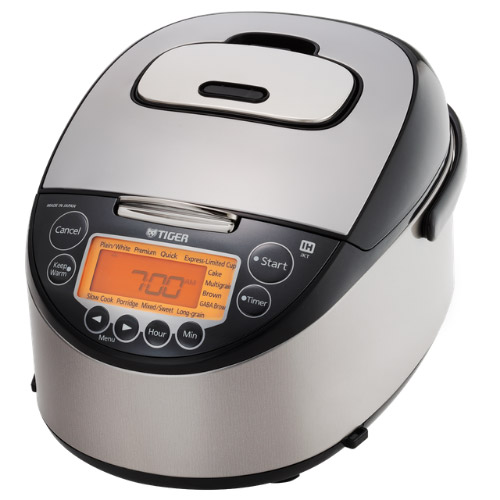 Induction Heating Rice Cooker JKT-D10U/18U
Made in Japan The TIGER JKT-D multi-functional induction heating (IH) electric rice cooker allows yo […]
LEARN MORE