Rice Cooker
Beef Radish Stew
If you're needing a hearty bowl of stew to help counteract the cold winter winds, look no further than this slow cooker beef radish stew. It's delicious comfort food – and is so easy to make in your rice cooker!
Servings

3-4

Preparation

20 min

Cooking

90 min
Ingredients
½ lbs Beef tendon
Medium (7 inch) Daikon radish
1 medium-sized Carrot
3-inch Ginger
2 Bay leaves
¾ cup Chicken stock
½ tbsp Soy sauce
¼ tbsp Sugar
¼ tbsp Salt
Directions
Boil beef tendons in hot water and remove the harshness (if any).
After boiling, pat the beef dry. Cut the beef after it cools down.
Cut the carrot and radish in bite size pieces. Slice the ginger.
Put the beef into the inner pot and then place the vegetables on top. Then add the chicken stock, condiments and bay leaf.
Set the inner pot in the rice cooker an select the [Slow Cook] menu. Set the heating time to 90 minutes and press the [Start] key.
When cooking is complete, place the dish on a serving plate.
A HEARTY SLOW COOKED BEEF STEW RECIPE
We'd venture that beef stew is one of the food-wonders-of-the-world.
Not only is bowl of slow cooker stew packed with savory, comfort-food flavors – it's also hearty, stick-to-your-ribs nourishment. Perfect after a long day at work or school.
Bonus: a steaming bowl of beef stew is the absolute antidote to the harsh, frigid winds that blow in the winter months.
But stew has also historically been a wonderful way to slow cook veggies along with tough cuts of meat, making them softer – while creating a soulful broth at the same time.
So it makes sense that we're using beef tendon as our stew meat. After a slow cooking session, it'll be fall apart soft. But feel free to use any cut of beef you prefer in this delicious slow cooker beef stew recipe.
And for our radishes, we're using daikon. These white radishes soak up the wonderful and hearty broth – and compliment the addition of carrots to the stew pot.
HOW TO MAKE BEEF STEW IN A RICE COOKER
By now you probably know that your Tiger rice cooker is the perfect appliance to use when creating hearty, slow cooked meals at home.
Because, with customizable cooking durations, you can slow cook anything from Korean braised short ribs to Japanese nikujaga to Mexican vegetarian chili – and everything in between with the press of a button.
Yep – these multi-cookers really do give a new meaning to the whole set-it-and-forget-it mentality at dinnertime.
Anyway, simply place your stew meat, veggies, spices and broth into the inner pot of your rice cooker and use the Slow Cook setting for 90 minutes.
You won't believe how rich, savory and soulful this warming beef stew is.
Bon appetit! 🍲😋
Products used in this recipe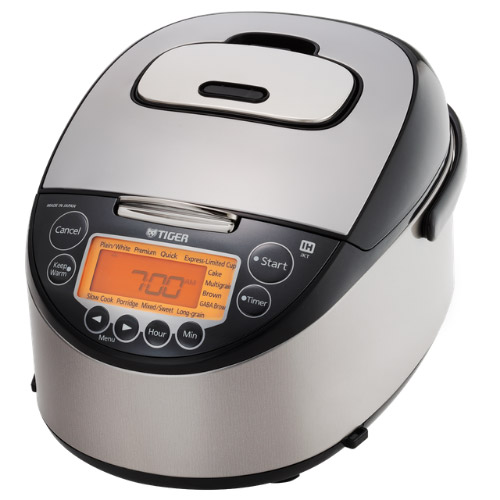 Induction Heating Rice Cooker JKT-D10U/18U
Made in Japan The TIGER JKT-D multi-functional induction heating (IH) electric rice cooker allows yo […]
LEARN MORE