Rice Cooker
Skinny Vegetarian Mexican Chili
Gluten Free
Slow Cook
Vegan
Vegetarian
Whether you're whipping up a hearty game-day feast, or preparing a well balanced dinner for your family on a busy school night, chili ticks a lot of boxes.
☑ It's soulful and delicious.
☑ It's easy to make.
☑ And it can be SO healthy!
We're excited to share this vegetarian chili recipe with you, friends. Whether you're just doing the Meatless Monday thing – or are vegan all the way, we've got a little trick up our sleeves in the final step that approximates the texture of a classic chili.
So… is this the best chili recipe?
You'll be the judge of that! Try it and let us know!
Rice Cooker Setting: Slow Cook
Servings

2

Preparation

15 min

Cooking

120 min
Ingredients
3 garlic cloves (minced)
1 small onion (finely chopped)
2 celery stalk (finely chopped)
1 small red bell pepper (finely chopped)
½ cup frozen corn
1 cup black beans
1 cup cannellini beans
1 28oz can of whole tomatoes
1 ¼ cup vegetable broth
1 ½ tablespoon chili powder
2 teaspoons cumin powder
1 teaspoon paprika
1 teaspoon dried thyme
1 tsp kosher salt
Directions
Place all the ingredients in the rice cooker and set the slow cook function for 120 minutes.
Serve with freshly chopped cilantro, avocado slices, tortilla chips or other toppings of your choice.
(Optional) For the best texture, transfer 1 cup of the chili into a blender and blend until smooth. Put it back into the rice cooker and stir.
OUR FAVORITE HEALTHY SLOW COOKER RECIPE
Sure, this skinny black bean chili is packed with healthy ingredients your body craves to stay in tip top shape. It's no secret that eating things like beans, corn, red bell pepper and celery is good for us.
But what makes this homemade chili recipe a complete powerhouse isn't just the obvious health benefits.
Nope… There are two other big factors at play that render this vegetarian chili one of our all time favorite slow cooker recipes.
And that combination is the assertive, south-of-the-border spice mixture – and the fact that this just so EASY to make.
Yep – using your Tiger multi cooker to whip up this slow cooker chili is a game changer!
It embodies the home-chef's foodie trifecta of being super healthy, unbelievably easy-to-make – and absolutely loaded with flavor.
HOW TO MAKE CHILI IN A RICE COOKER
You may be wondering… Is rice cooker chili an actual thing?
You bet it is! Simply load all your ingredients for this smoky and simple chili recipe into the inner pot of your Tiger rice cooker – and use the Slow Cook setting for two hours. Then open, stir and serve. That's it!
Now – your work can be done there if you want.
However, we have a pro tip: for the absolute best thick and hearty texture, transfer about a cup of your cooked vegan chili to a food processor or blender and pulse until smooth.
Place the blended chili back into the rice cooker and stir together. This not only thickens the chili, but gives it a texture that almost mimics a chili con carne.
Trust us, though, you won't miss the meat!
YUM 🍲😋
Products used in this recipe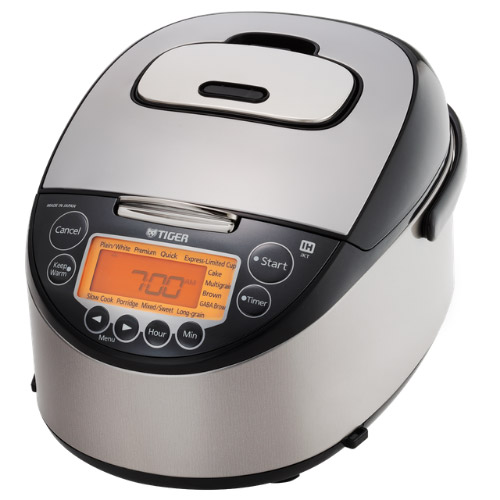 Induction Heating Rice Cooker JKT-D10U/18U
Made in Japan The TIGER JKT-D multi-functional induction heating (IH) electric rice cooker allows yo […]
LEARN MORE