Rice Cooker
Korean Braised Short Ribs in a Rice Cooker
Is there anything better on a cool evening than savory and spicy Korean short ribs? Well, we'd be hard pressed to name something we'd rather see served at dinnertime.
You see, when meat gets that fall-off-the-bone tender and intensely flavor infused, it instantly becomes a food force to be reckoned with in our book! AND something we hope to see on the dinner table again and again.
Servings

3-4

Preparation

15 min

Cooking

120 min
Ingredients
1 tbsp vegetable oil
1 pound short ribs
1 small onion, peeled and roughly chopped
1 potato, peeled and sliced bite size
2 small carrots, peeled and sliced bite size
2 oz snow peas
1 cup kimchi
2 garlic cloves, peeled and minced
2 tbsp soy sauce
1 tbsp granulated sugar
1 tsp tobanjan
1 cup beef broth
1 cup water
Directions
Add vegetable oil to a pan over high heat and sear the short ribs on each side until the pieces are golden brown.
Using the slow cooker mode on the rice cooker settings, add short ribs, onions, kimchi, garlic, soy sauce, sugar, tobanjan, beef broth and water and cook for 60 minutes.
Add potatoes, carrots and snow peas and cook for 30 minutes.
Stir well, season with salt and pepper and cook for 30 minutes.
Serve!
This hearty Korean style braised short ribs recipe packs a ton of assertive flavor – and achieves a slow cooked tenderness you'd normally have to wait the better part of a day for.
But since we're using a Tiger multi cooker, dinner at your house will be on the table in a fraction of the time it would normally take.
Hey – sometimes it helps to have the right kitchen tools!
SO, WHAT ARE BRAISED SHORT RIBS? WHAT DOES BRAISED EVEN MEAN?
Braising is a cooking technique that calls for you to first sear something at high heat – and then finish it in liquid at lower heat inside a closed container (usually a stewpot).
In the case of these savory short ribs, you'll sear them on all sides in a saute pan to ensure that a lovely flavor-boosting browning takes place on the outside of the meat. That also has the effect of sealing the meat's natural juices inside to be slowly integrated with the broth during the next step of slow cooking. That's where the tenderizing magic happens.
Seriously, braising meat will make it so tender you can cut into it with a fork.
SLOW COOKER SHORT RIBS… IN A RICE COOKER
So instead of the usual stewpot, we're using a multicooker (rice cooker) for the slow cooking step in this delicious Korean recipe. And we think you're going to love it!
You see, using the Slow Cook function takes the guesswork out of the equation. When the timer goes off, it's dinnertime!
What's even better is that you'll get an assertive blast of hearty slow cooked flavor from korean tobanjan and kimchi that mixes with the short ribs inside your soy sauce and beef broth infused braising liquid.
The flavor of these Korean braised short ribs is out of this world. In fact, it's one of our favorite short ribs recipes of all time.
We hope it becomes one of your favorites too!
Products used in this recipe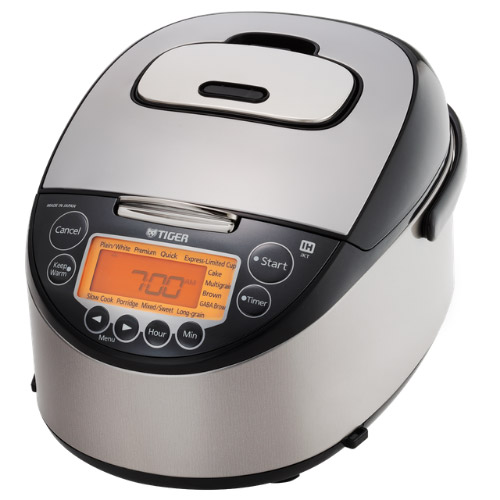 Induction Heating Rice Cooker JKT-D10U/18U
Made in Japan The TIGER JKT-D multi-functional induction heating (IH) electric rice cooker allows yo […]
LEARN MORE