Rice Cooker
Hearty Slow Cooker Beef Stew With Red Wine
When frigid winter winds begin to howl, we instantly crave warming and hearty comfort food. And there's nothing quite like beef stew to set things right on a cold day.
Good news, friends! We've got a recipe for beef stew that has all of the slow cooked flavor you'd expect from this classic winter dish. Bonus: the rich flavor is supercharged by the addition of a, ahem… fortifying ingredient.
So, whether you're coming in from shoveling out the driveway after a massive blizzard – or getting ready to head to the football game and need a warming stew infusion beforehand, this slow cooker beef stew has got you covered!
Ingredients
2 pounds beef chuck, cut into 1 1/2-inch pieces
2 tablespoons all-purpose flour
1 teaspoon smokes paprika
Kosher salt and freshly ground pepper
2 tablespoons olive oil
3 shallots, peeled and cut in quarters
1 pound small red potatoes, halved
1/2 pound cremini mushrooms, halved
3 medium carrots, cut into 1-inch chunks
3 sprigs fresh thyme
2 sprigs fresh rosemary
2 tablespoons tomato paste
1 teaspoon granulated sugar
1 cup red wine
2 cups low-sodium beef broth
Freshly chopped parsley, for garnish
Directions
Toss the beef cubes with the flour, smoked paprika and salt and pepper, to coat well. Pour the olive oil into the non-stick inner pot of the rice cooker. Add the beef cubes to the pot along with the shallots, potatoes, mushrooms, carrots, fresh thyme and fresh rosemary. Add the tomato paste, sugar, red wine and beef broth and stir well to combine the ingredients. Season the mixture with salt and pepper and stir again to disperse the seasoning.
Use the Menu button to set the rice cooker to the "Slow Cook" setting and use the Minute button to raise the cook time to 180 minutes. Close the lid and press Start.
When the stew is finished cooking, taste the sauce and adjust the flavor by adding additional salt and pepper.
Ladle the stew into bowls, garnish with freshly chopped parsley and serve.
A HEARTY BEEF STEW RECIPE, MADE BETTER WITH RED WINE
Something magical happens when you slow cook beef stew with wine. That trademark savory goodness that beef stew already has in spades, deepens to an even more profound succulence.
This slow cooker beef stew is very similar to an iconic French classic: beef bourguignon (or boeuf bourguignon).
You see, both dishes get a ton of flavor from stew beef being slow cooked with vegetables, broth and red wine. But what sets this red wine beef stew apart from the classic French beef bourguignon is that we left the French trademark bacon and pearl onions out. This classic American beef stew recipe has tender chunks of red wine-infused beef, mushrooms, carrots and potatoes. YUM!
A note on cooking with wine: while much of the alcohol content diminishes with cooking times, not all of it will.
HOW TO MAKE BEEF STEW IN A RICE COOKER
Your Tiger rice cooker comes with programmed presets for cooking all types of things, Not just rice. In fact, we like to call them multi cookers for just that reason!
Using the Slow Cook setting will develop the flavors of your red wine beef stew – while freeing you up from having to keep an eye constantly peeled on dinner.
When the timer sounds off, grab a bowl, a spoon and a piece of crusty bread and dig in!
Now, we may be slightly biased here, but we think this is one of the best slow cooker stew recipes!
But – hey – don't take our word for it. Try this warming and hearty slow cooker beef stew with red wine recipe at your place, and let us know what YOU think!
Products used in this recipe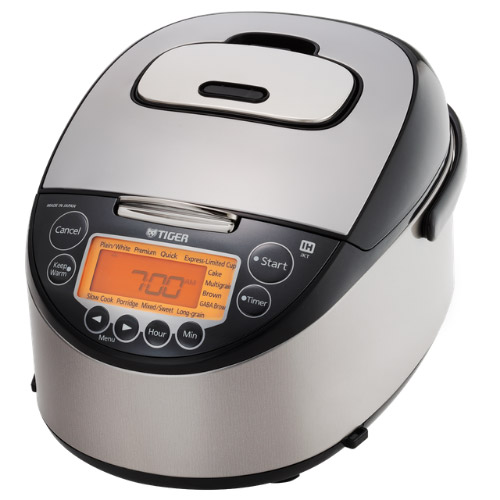 Induction Heating Rice Cooker JKT-D10U/18U
Made in Japan The TIGER JKT-D multi-functional induction heating (IH) electric rice cooker allows yo […]
LEARN MORE