Rice Cooker
Smoky Potato Chickpea Stew
Gluten Free
Slow Cook
Vegan
Turn to your rice cooker to whip up this impossibly delicious and healthy smoky potato chickpea stew.
You'll be pleasantly shocked by how, with just a handful of ingredients, you can get a rustic dinner on the table that looks and tastes anything but simple!
Servings

3-4

Preparation

20 min

Cooking

110 min
Ingredients
6 oz Chickpeas (boiled)
6 oz Potato
3 2/3 oz Onion
1/6 oz Garlic
11 oz Fire roasted diced tomatoes
3/4 tbsp Smoked paprika
3/4 tsp Cumin powder
1 Bay leaf
1 1/3 cups Vegetable broth
1/2 oz Baby spinach leaves
Salt and black pepper for flavor
Directions
Cut the potatoes into bite-sized pieces. Chop the onions and mince the garlic.
Place the chickpeas, potatoes, onions and garlic in the inner pot. Add fire roasted diced tomatoes, smoked paprika, cumin powder, bay leaves and vegetable broth. Mix well. Place inner pot in the rice cooker. Select the [Slow Cook] menu and set for 100 minutes. Press the [Start] key.
When cooking is complete, remove the bay leaves.
Transfer 2 cups of the soup to a blender from the inner pot and briefly pulse until blended but not completely smooth.
Place the blended mix back into the inner pot and stir.
Add the baby spinach leaves, close and lid and wait for 2 minutes.
Add salt and black pepper for flavor and pour the stew into a serving bowl.
THIS CHICKPEA STEW WILL BE YOUR NEW FAVORITE VEGAN RECIPE
Oh yeah! Nothing beats stew!
Especially a slow cooker stew that ticks all the boxes on the flavor charts. Cumin is a warming spice you might normally associate with curry – but it's right at home in this tomato based chickpea stew.
And smoked paprika brings a level of deep smokiness you'd expect from something like chorizo. However, this satisfying comfort food recipe is 100% plant based! Hey – don't worry – you won't miss the meat!
This hearty potato stew is packed with veggies like baby spinach, fire roasted tomatoes – and, of course, the star of the show… chickpeas.
And whether you call them chickpeas or garbanzo beans, there's no denying that their delicate nutty flavor is the perfect palate for the base of garlic, tomatoes and onions in this stew recipe.
HOW TO COOK CHICKPEA STEW IN A RICE COOKER
Now, we absolutely LOVE cooking unexpected dishes in our rice cookers. Pushing the boundaries of how you can use these powerful kitchen appliances is kind of our passion project.
Therefore, this vegan chickpea recipe isn't a far stretch of things you can whip up in your Tiger multi-cooker. (Btw… for another delicious chickpea recipe you can make in your rice cooker, check out this mind blowingly yummy keema curry with chickpeas!)
Anyway, the secret to making this warming, hearty stew is loading all your healthy, flavor forward ingredients into the inner pot – and then using the Slow Cook setting.
And that's basically it!
When you make this smokey and hearty slow cooker chickpea stew in your rice cooker, you're literally cooking dinner with the press of a button. SO EASY!
Bon appétit 🍲😋
Products used in this recipe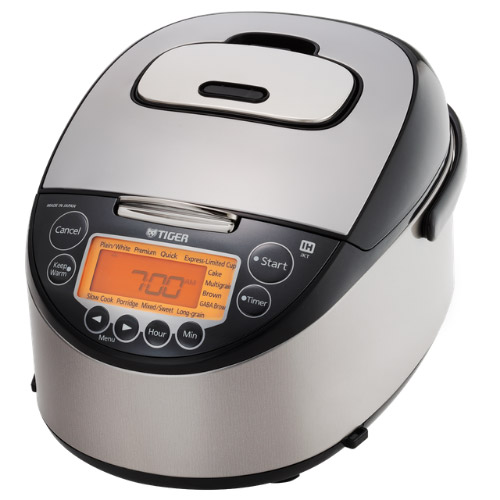 Induction Heating Rice Cooker JKT-D10U/18U
Made in Japan The TIGER JKT-D multi-functional induction heating (IH) electric rice cooker allows yo […]
LEARN MORE