Rice Cooker
Keema Curry with Chickpeas – キーマ カレー
We love going around the world on a plate!
Yep – one of the most exciting things for food lovers is how easy it is to try recipes from all over the globe. Not only does it expand our palates and appreciation of varied flavors – it gives us a common language. Because, everyone loves to eat, right!?
And the only thing better than talking about food is eating the food!
This keema curry recipe takes an iconic Indian recipe and prepares it through the looking glass of the Japanese palate. It's a savory, warming and slightly sweet curry – and utilizes our favorite 'pea' of all… the chickpea!
Ingredients
2 cups (supplied measuring cup) of white rice
1/8 lbs ground beef
1/8 lbs ground pork
1/2 tbsp corn starch
1/3 cup chickpeas (boiled)
1/3 cup onions (finely chopped)
1/8 cup carrot (finely chopped)
dash of salt and ground black pepper
1 tbsp curry powder
2 tbsp ketchup
1/2 tsp bouillon powder
1/2 tsp ginger (grated)
dash of salt
Directions
Put the ground beef and the ground pork in a bowl and season with salt and pepper. Add the potato starch and mix lightly.
Add the chickpeas, onions, carrots, sauce and mix well. Transfer them to the tacook cooking plate.
Put the washed rice and water in the inner pan, and set in the rice cooker.
Set the tacook cooking plate in the inner pan. Select the [Plain/Synchro-Cooking] menu and press the [Start] key.
When cooking is complete, serve the rice in a serving bowl. Mix the cooked keema curry well and pour over the rice.
WHAT IS KEEMA?
Keema (or kheema) is a curry dish very popular on the Indian subcontinent, consisting of ground meat and vegetables.
Meaning literally 'minced meat', keema is typically stewed with onions, ginger, garlic and the warming spices found in most curry powder blends.
This keema curry recipe we're making today is as easy as any recipe with this much flavor has the right to be. We think you're going to love it!
A JAPANESE SPIN ON AN INDIAN KEEMA MATAR
Keema entered the Japanese food lexicon in the 1950s – and like many yōshoko (typically Western influenced) recipes – has been adapted over the years to suit the Japanese palate.
We've added a little tomato ketchup to this keema curry recipe to bring a slight sweetness that marries so nicely with the assertiveness of the curry powder. And we've jettisoned the green peas you'll find in most Indian keema matar recipes with healthy and nutty chickpeas.
Fun fact: 'Keema curry' in the Japanese katakana syllabary is: キーマ カレー
No matter how you spell this chickpea and ground beef curry though, you're going to love the bold, international flavors, and…
The ultimate bonus: since you're making both the keema recipe and rice in your Tacook equipped rice cooker at the same time, there will be very little kitchen clean-up after dinner!
Enjoy! 🍲😋
Products used in this recipe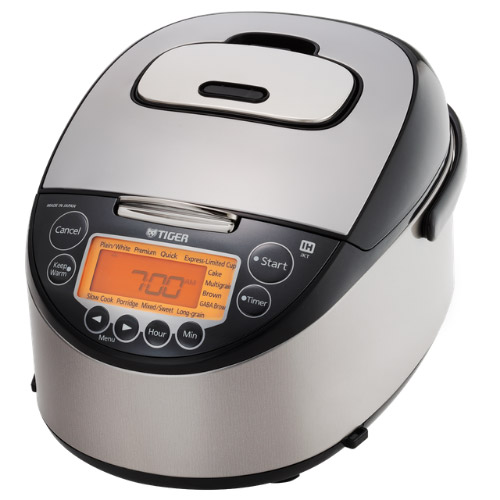 Induction Heating Rice Cooker JKT-D10U/18U
Made in Japan The TIGER JKT-D multi-functional induction heating (IH) electric rice cooker allows yo […]
LEARN MORE