Rice Cooker
Kale and Tomato White Bean Stew
This kale and tomato white bean stew delivers a one-two punch of bright and savory heartiness. And you can easily make it in your rice cooker!
Servings

3-4

Preparation

10 min

Cooking

75 min
Ingredients
3 cups kale or baby kale, chopped
1 15oz can navy beans, rinsed and drained
2 garlic cloves, minced
2 tablespoons extra virgin olive oil
2 medium tomatoes, cored and chopped
1 ½ cup water
1 cube chicken or vegetable stock
¼  teaspoon kosher salt
Directions
Add all the ingredients to the rice cooker inner pot.
Choose the [Slow Cook] function and set the timer to 50 minutes. Press start.
Serve the stew with a baguette or toasted bread.
A MEDITERRANEAN INSPIRED WHITE BEAN STEW
We love a good bean stew! And whether it's black beans, pinto beans or lima beans, as long as beans are in the title, we're all in.
We're using white beans in this bright tomato and kale stew because they're easy to find at the grocery store and have the perfect texture for this vegan stew recipe.
Navy beans are usually our choice when it comes to making slow cooker bean stews because they are quick-cooking and get rather creamy in a short amount of time.
However in a pinch, you could totally use great northern beans or cannellini beans for this recipe. Just keep in mind, with those two varieties, they hold their shape better than navy beans and will need to be partially mashed after cooking to achieve the same 'stew' consistency.
The combination of tomato and kale is evocative of a breezy seaside terrace somewhere along the Mediterranean coast. These two ingredients really do their best to deliver a ray of sunny brightness to this otherwise savory stew.
And, as you might have guessed, it's so easy to make in your rice cooker!
HOW TO MAKE WHITE BEAN STEW IN A RICE COOKER
Just add all of your stew ingredients to the inner pot of your Tiger multifunctional rice cooker. Close the lid and select the Slow Cook function for 50 minutes.
And that's it! Once the timer sounds off, grab your bowls and maybe a hunk of crusty bread.
Dinner is going to be delicious!
Products used in this recipe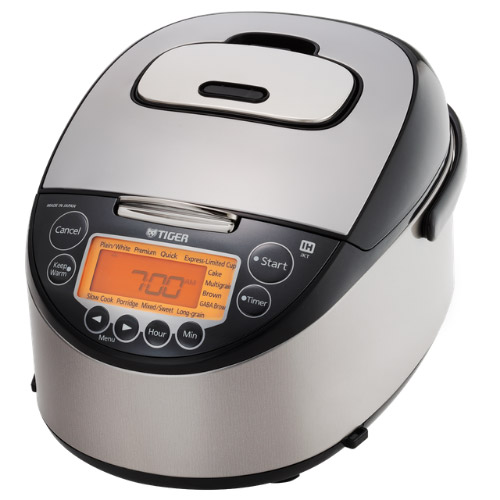 Induction Heating Rice Cooker JKT-D10U/18U
Made in Japan The TIGER JKT-D multi-functional induction heating (IH) electric rice cooker allows yo […]
LEARN MORE