Rice Cooker
Spinach and Chickpea Curry Rice
This spinach and chickpea curry rice is a veggie loaded spin on a traditional Japanese curry. And it's so easy to make in your rice cooker!
Servings

3-4

Preparation

10 min

Cooking

60 min
Ingredients
1 16-ounce can chickpeas, drained
1 medium onion, finely chopped
2 medium tomatoes, chopped
3 cups water
2 garlic cloves, minced
1 tablespoon grated ginger
220g Japanese curry roux blocks (4 or 5 cubes)
3 cups baby spinach, finely chopped
Directions
Add the chickpeas, onion, tomatoes, water, garlic, and ginger.
Close the lid, select the [Slow Cooker] function and set the timer to 60 minutes. Press Start.
When there is 20 minutes left to the cooking process, open the lid and add the curry roux and spinach. Stir for about 1 minute, or until the roux has completely melted. Close the lid and leave until cooking is complete.
Serve with rice.
HOW TO MAKE CONGEE IN A RICE COOKER
Curry comes in many forms. There are Thai curries, like this red curry with tofu. Indian curry is one of our favorites as well – like with this moreish cauliflower curry.
And using the inner pot of your Tiger multifunctional rice cooker to whip up curry makes total sense! You see, this 'multitool' of kitchen appliances has settings for preparing all types of food. And, once you press the Start button, your work is typically almost done. From pasta to stew to curry, we've got you covered.
Flavors develop super quickly in a rice cooker, resulting in curries that taste like they've been bubbling away for the better part of a day.
But we digress… did you know Japan has its own version of curry as well?
WHAT IS JAPANESE CURRY RICE?
Japanese curry (kare) typically has a thicker, stew-like consistency. While it can be spicy, it is more often savory and slightly sweet – with notes of rich demi-glace sauce throughout.
Vegetables like potatoes and carrots are common additions – as are meats like beef or chicken. Japanese curry is typically served with steamed Japanese short grain rice.
Now, for this rice cooker curry, we're switching things up a bit with the addition of chickpeas and spinach. And we're using store-bought curry roux for two reasons. First, it makes the cooking process super easy. Second: it's absolutely delicious!
HOW TO MAKE JAPANESE CURRY IN A RICE COOKER
Add all of your ingredients (EXCEPT the curry roux cubes and spinach) to the inner pot of your multifunctional rice cooker. Close the lid and use the Slow Cook function for 60 minutes.
When 20 minutes of cook-time remain, open the lid and carefully add the curry roux and spinach. Stir the mixture for about a minute, until the curry has dissolved and is evenly dispersed.
Close the lid again and allow the cooking cycle to complete. Serve alongside steamed rice.
Itadakimasu!
Products used in this recipe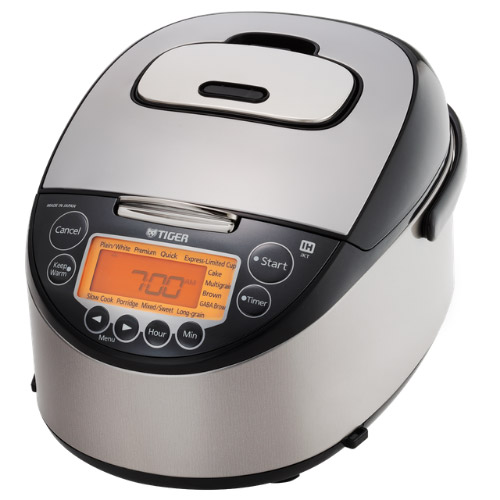 Induction Heating Rice Cooker JKT-D10U/18U
Made in Japan The TIGER JKT-D multi-functional induction heating (IH) electric rice cooker allows yo […]
LEARN MORE