Rice Cooker
Cauliflower Curry
It's curry time! Dig in to this savory and warming cauliflower curry with abandon. We think you and your family are going to love it.
Servings

3-4

Preparation

15 min

Cooking

45 min
Ingredients
1 Small onion, finely chopped
2 Garlic cloves, minced
½ Cauliflower head, chopped into bite size florets 
¾ cup Red lentils
¼ cup Frozen green peas, thawed
1 15-ounce Can diced tomatoes
1 1/2 cup Water
2-3 tbsp Red or yellow curry paste
½ tsp Salt
½ cup Coconut milk
¼ cup Cilantro, chopped
2 Scallions, finely chopped
Directions
Put the onion, garlic, cauliflower florets, lentils, green peas, diced tomatoes, water, curry paste, and salt, in the rice cooker inner pot and select the [Slow Cook] function. Set the timer for 45 minutes and press start.
When there's 15 minutes left to the cooking process, stir in the coconut milk and close the lid.
Serve the curry topped with chopped cilantro and scallions.
AN EASY CURRY RECIPE THAT TASTES LIKE YOU SPENT HOURS ON IT
We love a good curry. There's something so utterly moreish about a dish that balances savory, sweet, tangy and warming flavors – without overwhelming your palate.
This cauliflower curry recipe has layers of flavor in every bite, and is great in the texture department as well. Soft (but not too soft) cauliflower is fortified by hearty lentils. The garden fresh pop of fresh peas (it's totally fine to use thawed frozen peas) jumps out in each bite.
Curry paste is the cornerstone ingredient in the flavor department. Now you can use red or yellow curry paste for this cauliflower curry. We find most store bought yellow curry paste to typically be more mild than red – but it will differ from brand to brand.
Most curry paste will have chilis, lemongrass, turmeric, galangal and coriander somewhere in the mix. It's that deft blend of flavors that forms the base of this recipe.
The other curry ingredients we're adding to this easy cauliflower recipe are onions and garlic for their pungent bite – coconut milk for a touch of understated sweet creaminess – and canned tomatoes and cilantro for a garden freshness that's tough to beat.
Best thing: it's so easy to make in your rice cooker!
HOW TO MAKE CAULIFLOWER CURRY IN A RICE COOKER
Just place everything (EXCEPT the coconut milk, cilantro and chopped scallions) into the inner pot of your Tiger multifunctional rice cooker.
Use the Slow Cook function for 45 minutes. When the LED screen says there's 15 minutes of remaining cooking time, stir in your coconut milk.
Once the timer sounds off, you're good to go! Just plate it up and top with fresh cilantro and chopped scallions if that's your thing.
One bite of this delicious curry and we think you'll be sold!
Products used in this recipe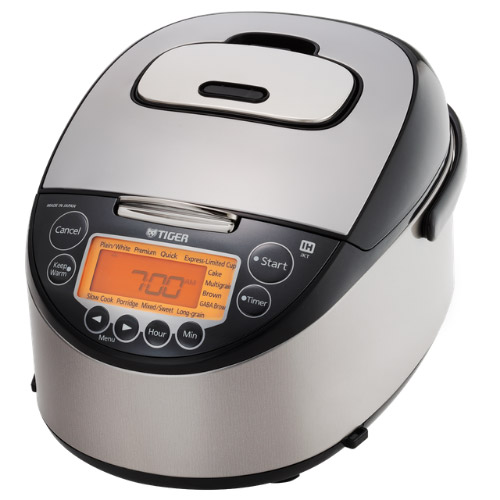 Induction Heating Rice Cooker JKT-D10U/18U
Made in Japan The TIGER JKT-D multi-functional induction heating (IH) electric rice cooker allows yo […]
LEARN MORE