Rice Cooker
Curry Flavored Pork Belly
We've got a spice blend we think you're going to love!
It's a mixture of spices that tastes exotic – and pushes this pork belly recipe into the stratosphere in terms of yumminess.
But don't worry – no matter how enticing and alluring the flavor combination may seem, you need not look any further than your corner grocery store for ingredients.
You see this curry flavored pork belly recipe calls for an intricate spice blend that just happens to normally be sold premixed in the West.
Yep – curry powder to the rescue!
It's the iconic flavoring agent that is going to elevate your dinner tonight.
Servings

2

Preparation
Cooking
Ingredients
1/2 lb (200 g) Pork belly
1/4 Onion
1/2 (3/4 oz / 20 g) Carrot
1 tbsp Tomato ketchup
1 tbsp Curry powder
1 tbsp Worcestershire sauce
1 tbsp Red wine
A pinch Salt
Finely chopped parsley for garnish
1 tsp Curry powder
A pinch Salt
1/2 Soup stock cube
Directions
Cut pork belly into 1/2 inch (1 cm) thick pieces. Season with pre-seasoning mix (salt, curry powder and crushed soup stock cube).
Grate the onions and carrot, then mix them with tomato ketchup, Worcestershire sauce, curry powder, wine and salt.
Place meat in the tacook cooking plate and pour the sauce over the meat.
Place the washed rice and water in the inner pot and set in the rice cooker.
Set the cooking plate in the inner pot. Select the "Synchro-Cooking" menu and press the [Start/Rinse-free] key.
When cooking is complete, place the dish on a serving plate. Sprinkle with finely-chopped parsley.
WHAT IS CURRY?
Curry is a complex mixture of herbs and spices – many of which flavor the savory, sweet and spicy dishes that are staple-foods on the Indian subcontinent.
Most Indian curry blends contain a mixture of warming spices like dried chilis, cumin, turmeric, coriander and ginger.
These spices are sometimes toasted or ground raw – and are used in everything from popular dishes like vindaloo to Rogan Josh and even this delicious keema curry with chickpeas.
Now, while these spices and flavor combinations are most definitely Indian in origin, it turns out that (depending on where you live in the world) curry powder may actually have been developed closer to home.
You see, it is said that commercially produced curry powder was a colonial British invention.
Regardless of how it ended up being sold in the modern age in containers at your corner shop, however, the spicy, smokey and earthy flavors are iconically Indian.
HOW TO COOK PORK BELLY IN A RICE COOKER
This curry flavored pork belly recipe is a breeze to whip up in your rice cooker with minimal prep and clean-up afterwards.
When you use the Tacook cooking plate to cook the pork belly, your Tiger rice cooker is busy steaming your rice at the same time in the inner pot below.
It's a capable little multicooker!
And it's the perfect kitchen appliance for making this rich, tender, melt-in-your-mouth curry pork belly recipe!
Products used in this recipe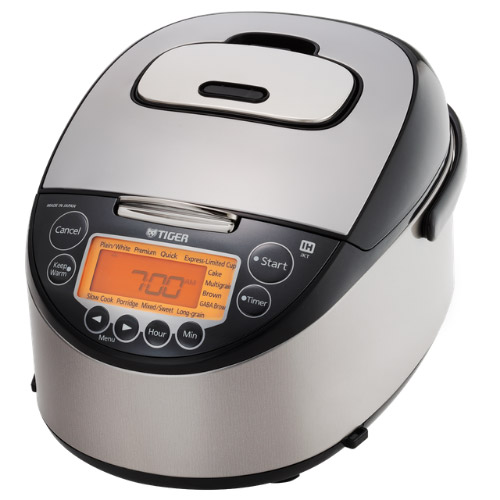 Induction Heating Rice Cooker JKT-D10U/18U
Made in Japan The TIGER JKT-D multi-functional induction heating (IH) electric rice cooker allows yo […]
LEARN MORE