Rice Cooker
Vegan Jackfruit Curry
Gluten Free
Slow Cook
Vegan
Vegetarian
Spicy and savory home cooked goodness is the name of the game with this vegan jackfruit curry recipe. It's so hearty, you might not believe that it's 100% plant-based!
Servings

3-4

Preparation

20 min

Cooking

40 min
Ingredients
14 oz Can green jackfruit
1 Small onion, chopped
3 Garlic cloves, minced
2 tbsp grated ginger
2 tbsp curry powder
1 tbsp cumin powder
2 Bay leaves
2 cups canned diced tomatoes
1 cup water
1 tsp salt
Directions
Drain the jackfruit, rinse well and drain again. Using your hands, gently squeeze out excess water and chop the jackfruit into bite size pieces.
Place the jackfruit in the inner pot along with the remaining ingredients and stir well. 
Select the [Slow Cook] function and set the timer to 40 minutes. Press start.
Serve with rice or naan bread.
WHAT IS JACKFRUIT?
Jackfruit is a tropical fruit typically cultivated and harvested in South India and Southeast Asia. When it is ripe, the fruit has a sweet flavor that has notes of pineapple, mango and banana.
However, the un-ripened fruit (called young jackfruit) is also picked and used. It has a milder flavor and almost meaty texture. Young jackfruit also happens to absorb flavors well – making it a great meat-alternative for vegetarians and vegans.
In this vegan jackfruit curry, it provides a hearty consistency, and soaks up all the assertive flavors from garlic, onion and tomatoes – and the warming spices like ginger, cumin and curry powder.
Now, if you're wondering where to buy jackfruit, it's relatively easy to track down canned young jackfruit in many Asian grocery stores. It's always a good idea to drain the brine from the canned jackfruit, rinse it under cold water – and drain well again before chopping and cooking with it.
This wonder-fruit makes the perfect addition to this vegan curry recipe. And – oh… did we mention how easy it is to make this jackfruit recipe in your rice cooker?
HOW TO MAKE JACKFRUIT CURRY IN A RICE COOKER
Just place all your prepared ingredients into the inner pot of your Tiger multi-functional rice cooker and stir them together. Then select the Slow Cook setting.
40 minutes is all you need for the flavors to develop – and for the simmering home-cooked goodness to be ready to be devoured. Even though there's no meat in this jackfruit curry, it's so hearty.
Serve over rice for a full-on flavor explosion!
Products used in this recipe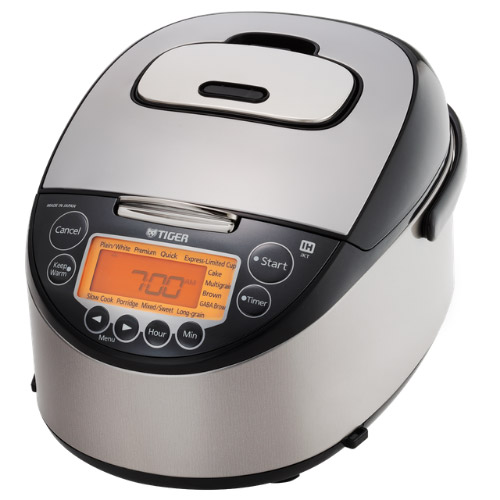 Induction Heating Rice Cooker JKT-D10U/18U
Made in Japan The TIGER JKT-D multi-functional induction heating (IH) electric rice cooker allows yo […]
LEARN MORE