Rice Cooker
Carrot Ginger Soup
With the iconic flavor pairing of carrots and ginger, this easy pureed soup has flavor for days. But we think you're going to absolutely love the fact that a silky and delicate carrot ginger soup can be made with such little fuss. After a long day, you deserve to take it easy in the kitchen!
Servings

3-4

Preparation

10 min

Cooking

80 min
Ingredients
1 pound carrots, peeled and chopped
1 small onion, finely chopped
3 cups vegetable broth or water
2 tablespoons grated ginger (3 tablespoons for spicier)
½ cup sour cream
Salt and pepper to taste
1 tablespoon fresh flat parsley, chopped
Directions
Put the carrots, onion, broth and ginger in the inner and select [Slow Cook] menu. Set for 75 minutes and press [Start] key.
Transfer the soup to a blender and add ⅓ cup sour cream. Blend until smooth and season with salt and pepper. 
Serve topped with fresh parsley.
SIMPLE SOUP IDEA: CARROT SOUP WITH GINGER
There's something that just seems so refined when it comes to serving a pureed soup recipe to your dinner guests. And while it may have been easy to make, there's no denying that the silky, velvety smoothness just classes up anything from a dinner party with friends to a cozy meal in PJs in front of the TV.
Plus it's delicious!
You see, this carrot ginger soup obviously has the iconic natural sweetness that carrots bring to the table – with the slow burn and underlying heat of ginger. Carrots and ginger just WORK together, right!? But what sends this pureed carrot soup recipe to the front of the pack is the addition of sour cream. Heck, you might just call this a cream of carrot soup due to the luxurious and silken texture the sour cream adds to this delicious ginger carrot concoction.
Best part if it's your turn to make dinner tonight: it's so easy to make in your rice cooker!
HOW TO MAKE CARROT SOUP IN A RICE COOKER
Your Tiger rice cooker totally excels at cooking things… That's right, they're not just for making perfect rice anymore!
With menu presets for making everything from this slow cooker BBQ pulled pork on game day to this Japanese salmon chanchan-yaki – to this simple ginger + carrot recipe, your Tiger multicooker has got you covered.
To make this carrot ginger soup in your rice cooker, simply place all your chopped ingredients (except the sour cream) into the inner pot. When you select the Slow Cook menu and hit the Start key, your rice cooker will take care of perfectly cooking those veggies and broth.
Afterwards, a quick spin in the blender is all it takes to complete this luxurious carrot ginger soup.
It'll look and taste fancy – but no one needs to know how easy it was to make!
Products used in this recipe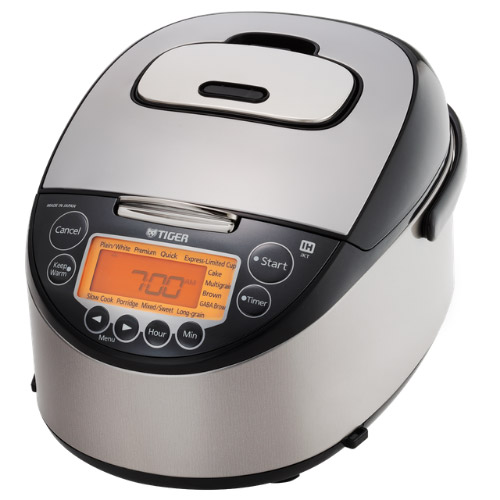 Induction Heating Rice Cooker JKT-D10U/18U
Made in Japan The TIGER JKT-D multi-functional induction heating (IH) electric rice cooker allows yo […]
LEARN MORE