Rice Cooker
Slow Cooker BBQ Pulled Pork
Right around the end of October, we start planning our Super Bowl menu.
Yeah – we know that's a bit early! But you can never be too prepared when it comes to putting together a feast for the ravenous football fans in your life.
And, while this easy slow cooker pulled pork recipe makes it into our Super Bowl spread every year, this isn't a one-trick-pony of a meal when it comes to serving situations.
We'd call it savory and sweet sandwich perfection that would be a welcome addition at any picnic, family gathering or potluck.
But – hey, that's just us!
Servings

8-10 sandwich

Preparation

120 min

Cooking

370 min
Ingredients
2 pounds pork loin
Pork Seasoning
2 cups beef broth
1 cup BBQ sauce
2 tbsp soy sauce
1 tsp fresh thyme leaves
1/2 tsp kosher salt
2 cups coleslaw premix
Coleslaw Seasoning
1/2 cup mayonnaise
2 tbsp apple cider vinegar
1 tsp maple syrup
Salt & pepper
Burger buns
Directions
Put pork and all the pork seasoning in the rice cooker.
Place inner pot in the rice cooker. Select the [Slow Cook] menu and set for 180 minutes. Press the [Start] key.
Once cooking is complete, take the pork out, shred using a fork and transfer to a bowl.
Add the sauce from the rice cooker along with more BBQ sauce (about 1/4 cup).
In a separate bowl, mix coleslaw and all the coleslaw seasoning together.
Serve the BBQ pulled pork on burger buns and top with coleslaw.
WAIT, RICE COOKER PULLED PORK IS A THING?
Yep. You bet! And it's glorious.
Best part: 10 minutes of kitchen prep is all it takes.
Your Tiger multi cooker is equipped with a Slow Cook function that takes care of everything after you press the Start button. And it delivers that fall off the bone, melt in your mouth goodness you expect when making BBQ pulled pork.
We'd wager that this is one of the best slow cooker recipes when cooking for a large, hungry group. If you make it, you'll definitely be the gametime MVP.
We can hear it now… "Leading the league in most pulled pork sandwiches served: YOU!" 🙌💥
THE BEST BBQ PULLED PORK SANDWICH
After you've tried making this pulled pork in a slow cooker recipe, we think you'll agree that it has the perfect balance of savory and sweet. And there's a cooling and creamy crunch from the coleslaw you place on top of your BBQ pulled pork.
Because, what's a pulled pork sandwich without coleslaw!? There's just something about a super soft burger bun, loaded with savory pulled pork and bright coleslaw that we're absolutely powerless to.
Check the easy to follow steps in the recipe tab – and happy cooking.
Oh, btw… better make double. They'll be gone by halftime!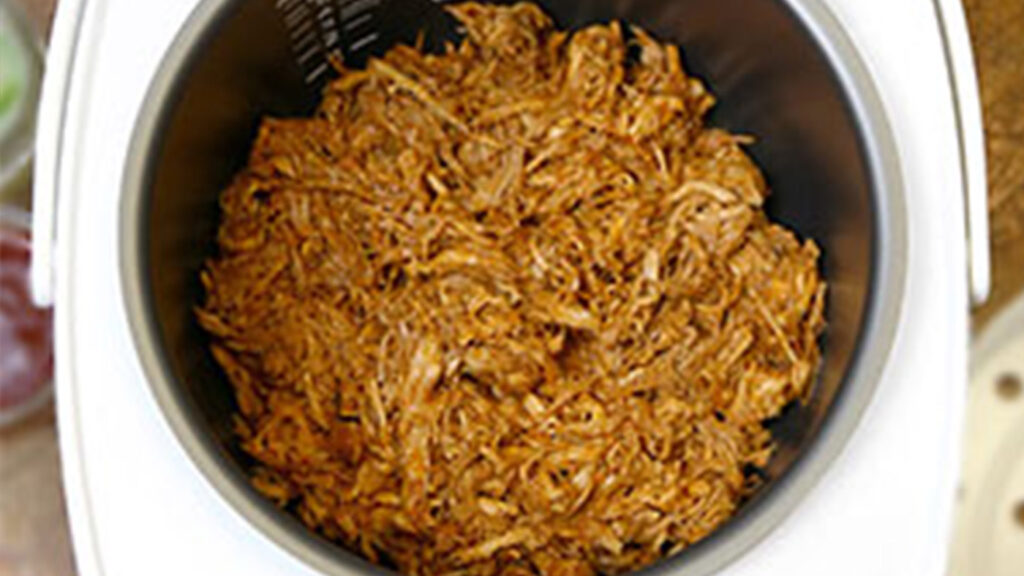 This BBQ pulled pork recipe was created using Tiger rice cooker's "Slow Cook" setting. To see which Tiger model has "Slow Cook" setting, check out Tiger Rice Cooker Listing.
Products used in this recipe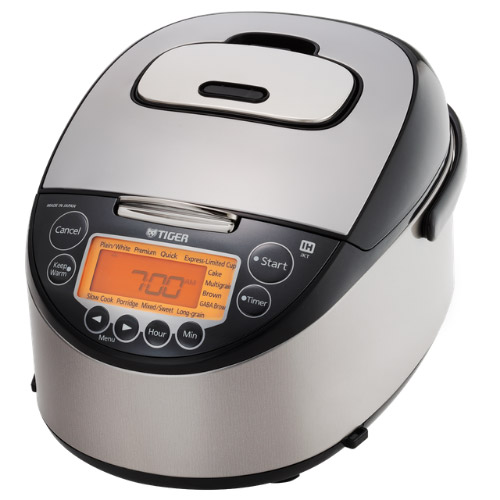 Induction Heating Rice Cooker JKT-D10U/18U
Made in Japan The TIGER JKT-D multi-functional induction heating (IH) electric rice cooker allows yo […]
LEARN MORE