Rice Cooker
Salmon Chanchan-Yaki
Food has the power to transport us anywhere in the world.
Whether it's tortilla soup sipped on a breezy beach in Mexico – or a hearty jambalaya deep down in New Orleans, food can take you there (no air miles required).
It can be so exciting to try new foods from far flung places – or to just savor a comforting taste of home when you're far away.
Take a trip to the winter wilds of Hokkaido with this miso salmon and veggie loaded chan-chan yaki recipe.
Just a taste – and you'll be in Japan… no matter where in the world you actually happen to be!
Servings

2

Preparation
Cooking
Ingredients
2 Salmon fillets (about 3 oz (80 g) per fillet)
2 Cabbage leaves
1/2 (3/4 oz / 20g) Carrot
1/2 cup (1 oz / 25g) Bean sprouts
2 tbsp Corn
2 Green onions stalks
1-1/2 tbsp Butter tablespoons
Salt and pepper for flavor
4 tbsp Miso
2 tbsp Cooking Sake
2 tbsp Mirin (rice wine)
1 tbsp Sugar
Hot pepper powder for flavor
Directions
Cut salmon fillets in half and season with salt and pepper.
Cut cabbage and carrots into bite size pieces.
Mix the ingredients for the miso sauce.
Place the bean sprouts in the tacook cooking plate and add the salmon and cabbage. Sprinkle with corn, pour over miso sauce and place butter on top.
Place the washed rice and water in the inner pot and set in the rice cooker.
Set the cooking plate in the inner pot. Select the "Synchro-Cooking" menu and press the [Start/Rinse-free] key.
When cooking is complete, place the dish on a serving plate. Arrange some chopped green onions on top.
WHAT IS CHANCHAN-YAKI?
At its core, chan chan yaki is salmon with vegetables.
Originally hailing from the northern Japanese island of Hokkaido, this recipe calls for fresh salmon to be coated with a savory and sweet miso based sauce.
It is then cooked with sliced cabbage and carrots. Bean sprouts and green onions are added to the mix, as is one of Hokkaido's most famous ingredients: sweet corn!
Sake, mirin and miso paste lend their dry, sweet and umami flavor components to this healthy fish and vegetable mash up.
Salmon is used regularly in Japanese food recipes. And it's easy to see why.
Not only is it loaded with Omega-3 fatty acids, salmon tends to absorb flavors super well, making it the perfect protein for this delicious chanchan-yaki recipe.
Fun fact: 'salmon' in the Japanese Hiragana syllabary is しゃけ.
That said, you can also make chanchan-yaki with other fatty fishes like cod.
A HEALTHY FISH RECIPE, FROM HOKKAIDO TO YOUR DINNER TABLE
Making this healthy salmon with vegetables recipe in your own kitchen is as easy as popping it all in your rice cooker.
Just load your rinsed Japanese rice and water into the inner pot – and place all of the ingredients for this yummy chan chan yaki recipe into the Tacook cooking plate.
When you select the Synchro-Cooking setting, the steam created from the cooking rice steams the fish and veggies at the same time.
Your taste buds will be in Japan before you know it.
Enjoy!
Products used in this recipe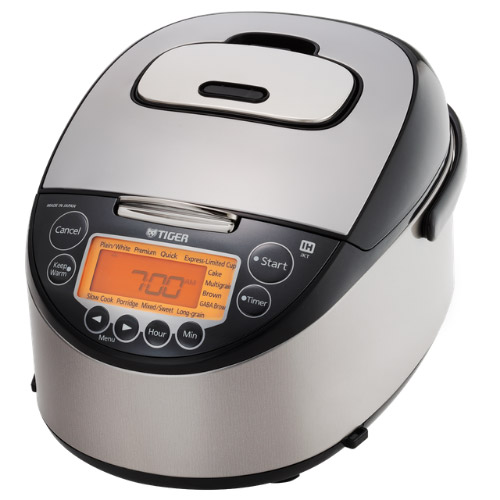 Induction Heating Rice Cooker JKT-D10U/18U
Made in Japan The TIGER JKT-D multi-functional induction heating (IH) electric rice cooker allows yo […]
LEARN MORE