Rice Cooker
Slow Cooker Chicken Tortilla Soup
Let's eat soup! Slow cooker chicken tortilla soup to be exact!
Bursting with bold, tangy and savory flavors, this isn't your average quick and easy chicken recipe.
Well… sure, it's easy to make. BUT it's also a soup with an enticing aroma that might just transport you to a small beach town in the Yucatán Peninsula.
Bonus: there are no air miles required to feast on this tortilla soup!
Hey, pass the chips!
Servings

3-4

Preparation

15 min

Cooking

45 min
Ingredients
2 boneless chicken breast (0.9lbs)
1 onion, chopped
3 garlic cloves, chopped
1 green pepper, chopped
1 can corn, drained
1 can garbanzo beans, drained
1 can diced tomato
3 cup water
½ cup of chicken broth
1 tbsp cumin
1 tsp oregano
1 pasilla chili, chopped
1 bay leaf
Salt and pepper for flavor
1 avocado
Tortilla chips
Lime (optional)
Directions
Place all ingredients except for the avocado, tortilla chips and lime in the inner pot.
Place the inner pot in the rice cooker. Select [Slow Cook] menu and set for 45 minutes. Press [Start] key.
Once complete, serve with chopped avocado, tortilla chips and lime juice on top
BOTH A COMPLEX TASTING MEXICAN SOUP AND AN EASY CHICKEN BREAST RECIPE
All too often, it seems like dinner can be an either/or proposition.
It's either the simple, same-old Tuesday after work supper.
Or it's a complex break from the norm, bursting with bold, nuanced international flavors.
Unfortunately, many times those exciting forays into international recipe territory can seem far too complex to attempt after a long day at work.
Well, we're here to tell you that this tortilla soup is absolutely bursting at the seams with the savory tang of a yummy Mexican chicken soup.
Oh… AND it just happens to be as easy pressing a button!
HOW TO MAKE CHICKEN TORTILLA SOUP IN A RICE COOKER
This is the easy part, friends!
You see, it shouldn't come as much of a surprise that Tiger multi cookers are equipped for preparing everything from savory chicken soup to spicy vegetarian chili – or even a this tangy herbed quinoa recipe.
Making this picante Mexican chicken soup recipe in your rice cooker is as simple as anything this delicious has the right to be!
Just place all the ingredients for your tortilla soup – except your lime, tortilla chips and avocado – in the inner pot of your rice cooker.
It only takes 45 minutes on the Slow Cook setting for the assertive flavors to develop and for the chicken to become absolutely fall-apart tender.
We have a feeling this easy chicken recipe might just be making multiple appearances at your dinner table this winter!
Your family is going to LOVE the savory and bold south-of-the-border flavor of this slow cooker tortilla soup recipe 🍲😋
Buen provecho!
Products used in this recipe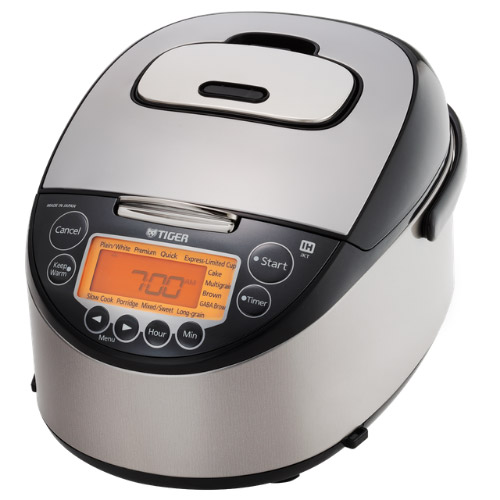 Induction Heating Rice Cooker JKT-D10U/18U
Made in Japan The TIGER JKT-D multi-functional induction heating (IH) electric rice cooker allows yo […]
LEARN MORE