Rice Cooker
Slow Cooker Chicken Vegetable Soup
This is a heart healthy, gluten-free, diabetic friendly, slow cooker chicken vegetable soup that only requires 10 ingredients to make. No noodles needed for this recipe – we are substituting chunky veggies for carbs so you can come back for seconds and thirds without having to worry about counting calories!
Servings

3-4

Preparation

15 min

Cooking

120 min
Ingredients
¾ pound chicken fillets, or chicken breast
2 garlic cloves, minced
2 large carrots, roughly chopped
2 celery stalks, roughly chopped
2 cups green beans, roughly chopped
1 red bell pepper, seeded and chopped bite size
2 cups cabbage, shredded
1 teaspoon dry oregano
1 tablespoon curry powder
946 ml low sodium chicken stock
Salt and pepper to taste
Directions
Lay chicken at the bottom of the multi cooker or slow cooker and top with vegetables.
Add oregano, curry powder and chicken stock and season with salt and pepper and stir.
Set multi-cooker on low for 2 hours and press start.
This is a delicious meal that takes little time to prep – a few minutes of chopping and you are done. Choose the slow cooker function on one of Tiger's multi cookers and let it take care of dinner this evening!
Making a healthy slow cooker meal on a budget can be simple and quick. With the use of common vegetables such as carrots, cabbage and celery, you can easily save money while still impressing your family with a meal that's super yummy and wholesome.
We have lightly seasoned the broth with curry powder to add a little kick to it and bring the taste of chicken to life.
This slow cooker chicken vegetable soup is also very versatile – you can substitute one vegetable for another or swap beans for chicken for a vegetarian meal (swap vegetable broth for chicken broth). One of the advantages of using the slow cooker function to make soup is that the flavors have time to develop and thus, taste more complex and deep.
Fall chicken soup recipes are abound because we associate soups with comfort, especially when the days get shorter and colder. A hot bowl of soup keeps us warm and is soothing for an upset stomach, or when we feel under the weather.
It's also an easy way to eat healthy if you are looking to shed a few pounds or add more vegetables to your diet.
This slow cooker chicken vegetable soup will keep in the fridge for 4-6 days or for up to 2 months in the freezer, in an air tight storage container.
Products used in this recipe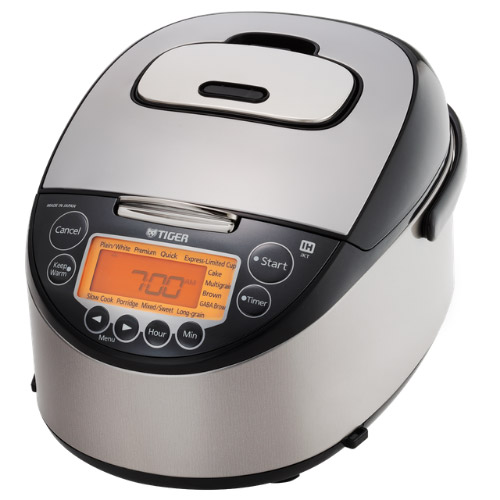 Induction Heating Rice Cooker JKT-D10U/18U
Made in Japan The TIGER JKT-D multi-functional induction heating (IH) electric rice cooker allows yo […]
LEARN MORE