Rice Cooker
Herbed Pomegranate Quinoa Salad
We've done a full 180 on quinoa!
You see, it's much too easy to dismiss recipes with quinoa as simple health food that, while good for you, might not be that enjoyable to eat.
Well, we're here to tell you that – when it comes to quinoa – you actually can have your proverbial cake and eat it too!
Sure quinoa is a superfood that totally deserves its standing in the pantheon of healthy ingredients. But it's also delicious. Yep, with it's nutty flavor and fluffy texture, it's a great palate to flavor however you want.
And it's absolutely perfect for this healthy and flavor forward herbed pomegranate quinoa salad recipe!
Fun fact: despite its appearance, quinoa is a seed – not a grain.
Without further ado, let's make quinoa salad!
Ingredients
1 cup quinoa
2 cups water
½ teaspoon salt
¼ cup red onion
½ cup pomegranate seeds
¼ cup chopped walnuts
¼ cup basil
¼ cup mint
¼ cup feta cheese, crumbled
¼ cup extra-virgin olive oil
2 tablespoons red wine vinegar
1 teaspoon Dijon mustard
Salt and pepper to taste
Directions
Rinse quinoa under cold water and drain.
Put quinoa, water and salt in rice cooker, stir and select the QUICK setting. Press start.
When the quinoa is done cooking, transfer it to a large bowl and fluff it with a fork. Let cool to room temperature. You can refrigerate it to speed up the cooling process.
Meanwhile, finely chopped the red onion and shred the basil and mint.
Put all the ingredients for the dressing in a container with a lid and seal. Shake vigorously until liquid has emulsified.
Add onion, pomegranate, walnuts, basil, mint and feta cheese to the quinoa and toss well.
Pour the dressing on the quinoa and toss until all the ingredients are evenly coated. Serve.
HOW TO MAKE QUINOA IN A RICE COOKER
It may not seem like the most obvious use for a rice cooker, but, as you're going to see, this is the easy part! Your Tiger rice cooker has cooking presets you can use for all types of good stuff.
Hey, we call it a multi cooker for a reason!
To get started on this easy salad recipe, simply add your water and rinsed quinoa to the inner pot of your rice cooker.
Now, the golden ratio to keep in mind when making perfect, fluffy quinoa is 2:1. That's two parts water to one part dry quinoa.
So, for this quinoa recipe, add one cup rinsed quinoa, two cups water and a pinch of salt to your multi cooker. Select the Quick setting – and press Start. Watch our video for the play by play steps to follow.
We think you'll love how light and nutty your quinoa will turn out. Bonus: You don't have to keep your eye on the stovetop to achieve perfect results!
A QUINOA SALAD RECIPE AS DINNER – OR A HEALTHY SIDE DISH
The best salad recipes are the ones we want to eat. And when a salad is loaded with tart pomegranate, fresh herbs and a bright and tangy vinaigrette – you're definitely going to want to tear into it.
This delicious, nutty and healthy quinoa recipe doesn't pull any punches in the flavor department. YUM!
And, whether as a side dish or full-on dinner salad recipe, you can't do better from a health standpoint.
Pomegranate benefits digestion – and is absolutely loaded with the vitamin C and antioxidants our bodies need to stay in prime condition and fight off illness.
But the biggest benefit to using pomegranate in this hearty yet light quinoa salad recipe is its great taste.
Bon appétit!
Products used in this recipe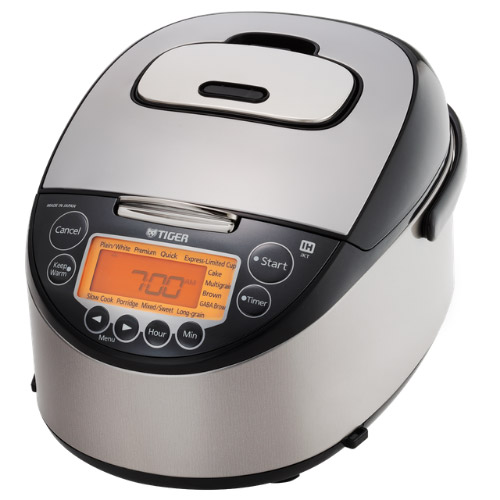 Induction Heating Rice Cooker JKT-D10U/18U
Made in Japan The TIGER JKT-D multi-functional induction heating (IH) electric rice cooker allows yo […]
LEARN MORE