We're in to comfort food, big time! And, what's more comforting than a plate piled high with Creole style savory and smoky rice!?
Now, while rice is most certainly in our wheelhouse as far as food goes, we want the humble rice cooker to be synonymous with the preparation of global cuisine. Sure – a trip to New Orleans would be the BEST, but we're going to suggest the next best thing.
Let's make jambalaya at home!
Servings

4

Preparation
Cooking
Ingredients
3 cups (supplied measuring cup) long grain rice
1/2 cup chorizo or sausage (sliced)
2/3 cup chicken thigh (cut into large cubes)
1/2 cup onions (finely chopped)
1 tsp garlic (finely chopped)
2 tbsp tomato paste
1 bay leaf
1 tsp thyme
1 1/2 tbsp chili powder
2 tsp red pepper powder
1 tbsp chicken stock (powder)
1 tsp salt
1 red bell pepper (sliced)
1/2 lbs chicken thigh (cut into bite size pieces)
4 shrimps (devein)
1 tbsp olive oil
salt and ground pepper for flavor
Directions
Wash rice and place in the inner pan. Add chicken stock and salt and then add water until level 3 of Mixed scale as indicated in inner pan.
Place chorizo, chicken, onions, garlic, tomato paste, bay leaf, thyme, chili powder and red pepper powder flatly on the rice. Select the [Mixed • Sweet ] menu and press the [Start] key.
When cooking is complete, heat the olive oil in a frying pan, and sauté the ingredients for the Post-cooking with salt and pepper.
Mix the cooked rice and place on a serving plate and with the  sautéed ingredients on top.
WHAT IS JAMBALAYA?
Jambalaya is one of the original one pot recipes! It's a tomato based stewed and simmered dish, loaded with rice, peppers, assertive Cajun spices and savory broth.
While you'll find jambalaya recipes differing from chef to chef (many based on recipes passed down through generations), most jambalaya contains multiple proteins. The Creole recipe we're making here in our Tiger multicooker has a savory and indulgent mix of chicken, shrimp and sausage.
Now, most tomato based Creole jambalaya recipes call for andouille sausage. It has a smoky perfection that just happens to balance the entire dish!
Tough time tracking down andouille sausage? We've also had luck using chorizo in a pinch in this recipe when andouille was a little hard to find.
HOW TO MAKE JAMBALAYA IN A RICE COOKER
Good news friends! Your rice cooker can take care of some of the heavy lifting when it comes to making this Creole comfort food recipe. This sausage, chicken and shrimp jambalaya will cook to perfection in the inner pot of your Tiger multicooker with the press of a button.
Then, you can cook your shrimp à la minute at the very end to make sure those juicy crustaceans stay succulent and don't overcook.
It's probably not very often that assertive and savory Creole food gets made in a Japanese rice cooker. Well, we wanna change that!
Let's cook!😋
Products used in this recipe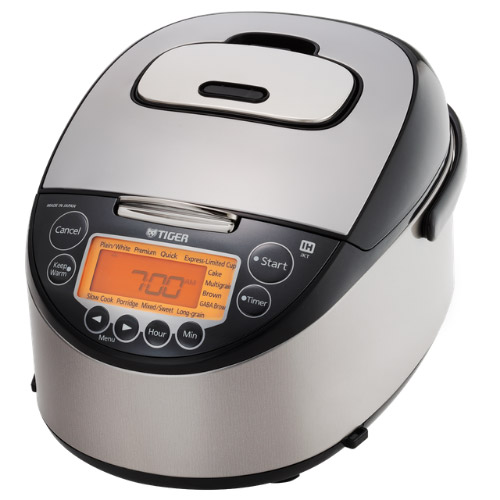 Induction Heating Rice Cooker JKT-D10U/18U
Made in Japan The TIGER JKT-D multi-functional induction heating (IH) electric rice cooker allows yo […]
LEARN MORE