Rice Cooker
Broccoli with Garlic and Ginger
Make this savory and healthy steamed broccoli with garlic and ginger in a flash! Since you'll be using your rice cooker, you'll be cooking with the press of a button!
Servings

2

Preparation
Cooking
Ingredients
2 cups White rice (supplied measuring cup)
1 tbsp Ginger, grated
½ tsp Powder chicken stock
½ tsp Sesame oil
2 tbsp Water
200g Broccoli, chopped bite size
2 Garlic cloves, thinly sliced
Directions
In a small bowl, whisk ginger, powdered chicken stock, sesame oil, and water, and set aside.
Put the washed rice and water in the inner pot and place it in the rice cooker.
Add broccoli and garlic to the tacook cooking plate and place it on top of the inner pot. Select the [Synchro-Cooking] menu and press the [Start] key.
Take the tacook cooking plate out of the rice cooker and pour the sauce over the broccoli. Serve.
A HEALTHY BROCCOLI RECIPE WITH GARLIC AND GINGER
Sometimes the simplest of ingredients make the best dishes. And that's definitely the case with this fragrant steamed broccoli recipe!
You see, the garden freshness of broccoli florets pairs so wonderfully with the pungent nuttiness of sliced garlic and the slow burn of fresh ginger. Now you could stop there, but we've added a bit of powdered chicken stock to deliver a savory undertone – and sesame oil for a roasted note to the finished dish.
Not only is this healthy recipe just plain good for you, it's super flavor forward!
It makes the perfect side dish to a larger meal – but can also be the star of the meal if you're watching calories and just need a hearty bowl of broccoli and rice.
But no matter which rice bowl you decide to make for dinner, since you'll be using your rice cooker, it'll be SO easy!
HOW TO STEAM BROCCOLI IN A RICE COOKER
Now, your rice cooker may not be the first kitchen appliance you think of when it comes to cooking broccoli – but we're here to change all that!
You see, your Tiger multi-functional rice cooker comes with a tacook plate that allows you to cook a composed dish at the same time your rice is cooking to perfection in the inner pot below. It's a real time saver!
Therefore, for this garlic and ginger broccoli recipe, just load your rinsed rice and water in the inner pot of your rice cooker – and your broccoli and garlic into the tacook plate. When you use the Synchro-Cooking setting, your rice and broccoli will both steam to perfection.
After cooking, just pour the sauce over your cooked broccoli florets and dinner is served!
Bon appétit!
Products used in this recipe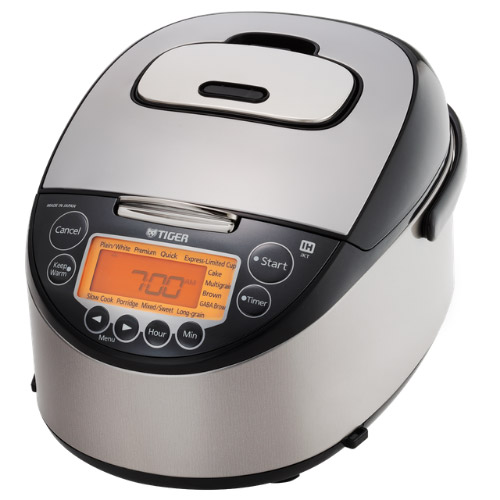 Induction Heating Rice Cooker JKT-D10U/18U
Made in Japan The TIGER JKT-D multi-functional induction heating (IH) electric rice cooker allows yo […]
LEARN MORE