Rice Cooker
Chicken and Rice With Vegetables
We obviously have a soft spot in our hearts for savory and simple rice dishes.
And, hey – it's no secret that we're big fans of easy chicken recipes too. Just check out our slow cooker chicken pot pie!
So, when it comes to combining two of our favorite things, we're get kind of serious. Yep, it's fair to say that a combined chicken and rice recipe is most definitely in our dinnertime wheelhouse.
And we can't wait to share it with you and your family! 🍲😋
Ingredients
Short grain brown rice
1 clove garlic, chopped
Chicken broth
Broccoli florets
Butternut squash, diced
½ pound chicken
Pinch of salt & pepper
Balsamic vinaigrette (optional)
Rosemary, chopped (optional)
Directions
Place the chicken and vegetables in the tacook cooking plate.
Add a pinch of salt & pepper with your desired seasoning to the chicken and vegetables.
Put the washed brown rice with garlic and chicken broth in the inner pot. Set in the rice cooker with cooking plate above.
Select "Synchro-Cooking" menu and press the start key.
When cooking is complete, place the dish on a serving plate.
KEEP DINNER EASY WITH ONE POT MEALS
On the busiest of days, when the whole what to eat for dinner thing comes up, we like to take a step back and think about how we can maximize flavor while minimizing effort in the kitchen. It sure wouldn't hurt if dinner was healthy too, right!?
This chicken and rice with vegetables is one of those super easy rice recipes that just happens to be a balanced meal, packed with savory and satisfying flavor. If we were making it on the stovetop, we'd call it a one pot meal.
Well, we're going a step further and making this veggie loaded easy chicken and rice recipe in a rice cooker.
You'll love how easy the dinner prep (and clean up) is. So, let's cook!
HOW TO MAKE RICE AND CHICKEN IN A RICE COOKER
While we love the flavors of a traditional chicken and rice bake, let's leave the oven off today!
All you need to do to make this healthy chicken and rice recipe is to load your Tacook tray with your chicken and vegetables. Then, in the inner pot, just toss in your uncooked rice and broth.
Select the Syncro-Cooking mode on your multicooker and press the Start key. That's it!
Your rice, chicken and vegetables will all cook to perfection at the same time. And all you had to do was press a button! When the timer sounds off, plate it up and eat it up!
The broth cooked brown rice pilaf is savory and nutty. And the rosemary topped steamed chicken is tender perfection.
Ease: level 10.
Flavor: off the charts!
Products used in this recipe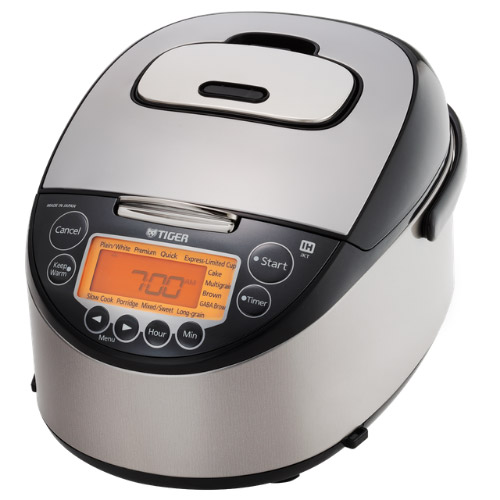 Induction Heating Rice Cooker JKT-D10U/18U
Made in Japan The TIGER JKT-D multi-functional induction heating (IH) electric rice cooker allows yo […]
LEARN MORE