Rice Cooker
Slow Cooker Chicken Pot Pie
By the time there's a hint of fall chill in the air, it's only natural that we start to crave savory comfort food classics.
And whether you prefer chicken and dumplings, or are more of a slow cooker chicken stew kind of eater, there's no denying that – once you mix chicken and veggies together – it's probably going to have all-star levels of flavor!
Well, this slow cooker chicken pot pie not only has all the rich and savory essence of a classic chicken pot pie, it's also a breeze to make in your Tiger multi cooker.
Bonus: pot pies tend to have such a warming and comforting effect when your family sits down to dinner, you may just succeed in erasing the chill from the air, chef!
Servings

3-4

Preparation

20 min

Cooking

120 min
Ingredients
1 10.5 ounce can cream of chicken soup
1 cup milk
1/4 cup water.
2 boneless, skinless chicken breasts, chopped bite size
1 medium onion, finely chopped
1 medium carrot, diced
2 celery stalks, diced
1 medium russet potato, peeled and diced
1/2 cup frozen peas, thawed
1/2 cup corn kernels
1 teaspoon garlic powder
1/2 teaspoon thyme
1/2 teaspoon dried oregano
1/2 teaspoon paprika
1/2 teaspoon kosher salt
1/4 teaspoon ground black pepper
1 package of biscuits
Directions
In a bowl, whisk in cream of chicken with milk.
Add to the inner pot along with all the other ingredients, except biscuits, and stir well.
Place inner pot in the rice cooker. Select the [Slow Cook] menu and set for 120 minutes. Press the [Start] key.
When there is about 20 minutes left to cook, bake biscuits in the oven until golden.
Serve chicken pot pie with biscuits on top.
SO, WHAT IS A POT PIE?
Most pot pies consist of of meat and vegetables in a creamy stew-like sauce, with a pie crust on top. These beef, seafood or chicken pies are typically baked in the oven.
However, quite a few delicious pot pie permutations exist in the wild. For example, it's quite common to see small handheld chicken pot pies made with puff-pastry that resemble turnovers.
And the Pennsylvania Dutch make a pot pie that has no crust at all – and almost resembles a yummy chicken and dumpling stew.
Therefore, it's not too much of a stretch to think of this easy chicken pot pie recipe as a deconstructed pot pie. The chicken and vegetable stew portion is slow cooked to savory perfection in your rice cooker, and is topped with a flaky biscuit just before serving.
A SLOW COOKER CHICKEN POT PIE IN A RICE COOKER
When making this homemade chicken pot pie recipe, you can let your Tiger rice cooker do the heavy lifting. In fact, most of our rice cookers do so much more than just cook rice, we like to call them multi cookers!
Use the Slow Cook setting when making the savory stew portion of this easy chicken pot pie recipe. You'll develop a ton of flavor in a short amount of time – and won't have to keep checking to see if it's done.
When the timer sounds off, stir well, and serve!
We LOVE topping everyone's plate off with a fresh, oven-baked biscuit.
And there you have it! This deconstructed slow cooker chicken pot pie is super easy to prepare, with bold, hearty flavor. Yep – it's a definite crowd pleaser!
AND it's the perfect meal when family and friends want comfort food – but you still want to make sure dinner is healthy and nutritious.
Hey – everyone loves a win-win at dinner!
Products used in this recipe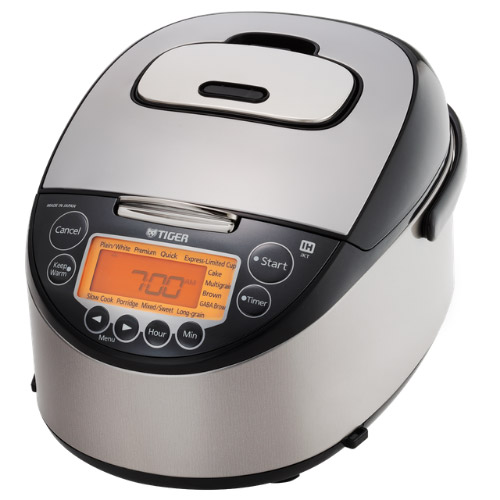 Induction Heating Rice Cooker JKT-D10U/18U
Made in Japan The TIGER JKT-D multi-functional induction heating (IH) electric rice cooker allows yo […]
LEARN MORE