Rice Cooker
Gyudon (牛丼) Japanese Beef Bowl
It's no secret: gyudon is just one of those perfect meals.
Whether enjoyed around the dinner table with family – or as an indulgent snack after a few after-work drinks with your team, this iconic Japanese beef bowl is as satisfying as it is filling.
Good news, friends: you can totally make this gyudon recipe in your Tiger rice cooker in a flash!
Create happy and full bellies… and keep the after-dinner clean up to a minimum. Win/win!
Servings

2

Preparation
Cooking
Ingredients
2 cups (supplied measuring cup) of  white rice
1/3 lbs beef (thinly sliced)
1/2 cup onions (sliced)
1/2 tbsp sugar
1 tbsp soy sauce
1 tbsp mirin
Directions
Place all ingredients and the sauce in a bowl and mix well. Transfer to the tacook cooking plate.
Place the washed rice and water in the inner pan and set in the rice cooker.
Set the cooking plate in the inner pan. Select the [Plain/Synchro-Cooking] menu and press the [Start] key.
When cooking is completed, put the rice in the serving bowl. Place the ingredients on top of the rice and pour the sauce evenly.
WHAT IS GYUDON?
Gyūdon (牛丼) is a Japanese recipe that consists of thinly sliced beef and onions simmered in a savory and mildly sweet sauce, served over rice. Soy sauce delivers a salty, umami flavor to the simmering liquid that is evened out by the sweetness from mirin and sugar.
Gyudon is very popular in Japan. And it has reach! Not only will you find it being served at homes across the country for dinner, you'll also see it on the menu in izakayas – and even fast food restaurants like Sukiya and Yoshinoya.
The don in gyudon is short for donburi – which means 'bowl' in Japanese. Donburi are rice bowl recipes, topped with simmered meat or seafood and vegetables. Some popular donburi recipes are oyakodon, this shrimp and zucchini ankake donburi – and of course, savory beef-topped gyudon.
Fun fact: gyūdon literally translates to 'beef bowl'.
AN ICONIC YET EASY JAPANESE RECIPE
Wonder how you can make this Japanese beef bowl in your rice cooker? Don't worry. We've got you!
Making gyudon from start to finish in a Tiger multicooker is way easier than making it on the stovetop.
Simply load the inner pot of your rice cooker with your rinsed Japanese rice and water – and place your beef, onions and sauce in the Tacook cooking plate up top. Select the Synchro-Cooking setting and press Start. That's it!
Your rice cooks to perfection – while the steam simmers your thinly sliced meat. And you don't need to check on it. When the timer goes off, it's dinnertime!
We love any recipe that minimizes clean up in the kitchen! Oh, and this iconic and delicious Japanese gyudon recipe tastes like you spent hours perfecting it.
Don't worry, your secret is safe with us chef!
Itadakimasu! 🍲
Products used in this recipe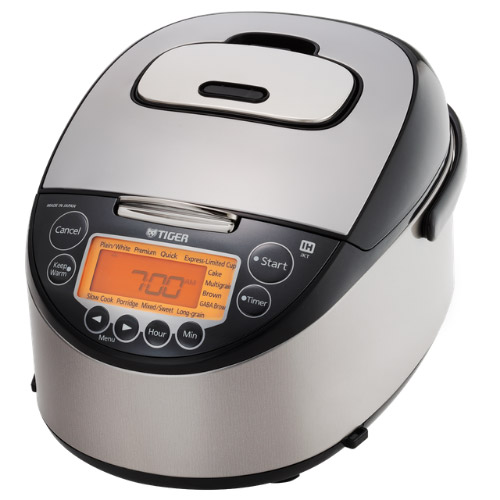 Induction Heating Rice Cooker JKT-D10U/18U
Made in Japan The TIGER JKT-D multi-functional induction heating (IH) electric rice cooker allows yo […]
LEARN MORE