Rice Cooker
Shrimp, Potato and Zucchini Ankake Donburi
Ever seen a Japanese bowl loaded halfway with rice – and brimming with simmered meat and veggies or a thick, savory stew on top?
That visual alone might have made you hungry, right?
Well, we're here to tell you that tasting is most definitely better than seeing! Donburi not only makes a delicious late night snack after a trip to the bar with friends and co-workers, it's the perfect rustic, hearty dinner to serve your family as you all sit down to the table together.
This shrimp, potato and zucchini ankake donburi is sure to be your go-to easy rice recipe this winter!
Recipe by: Pickled Plum
Ingredients
3 cups (supplied measuring cup) white rice
1 tbsp vegetable oil
4 garlic cloves (peeled and finely chopped)
1 thumb size ginger (peeled and julienned)
1 small onion (finely chopped)
1 large potato (peeled and cut bite size)
2 small zucchini (sliced in half moons)
3 oz shrimp (peeled and deveined)
450g baby spinach
1½ cup dashi broth
3 tbsp soy sauce
½ tbsp granulated sugar
1 tbsp sake
1 tbsp mirin
2 tbsp potato starch mixed with 2 tbsp cold water
white pepper
Directions
Place washed rice in inner pan and fill inner pan with water until level 3 as indicated on the inner pan. Select [Plain] menu and press the [Start] key to cook the rice.
In a deep skillet add oil, garlic and ginger and cook for 1 minute over medium high heat.
Stir in onions and sautee for 3 minutes until onions soften.
Add potatoes and cook for 4 minutes, stirring frequently.
Add zucchini, shrimp and cook for 3 minutes.
Add spinach, dashi broth, soy sauce, sugar, sake and mirin and cook 4 minutes.
Mix potato starch with water and add to the skillet, stirring continuously until the sauce thickens (about 1 minute).
Serve warm with rice and white pepper.
WHAT IS DONBURI?
Chances are, even if you didn't know you were eating it, you've had one iteration or another of donburi before. You see, donburi is basically a rice bowl, topped with simmered meat or seafood and vegetables.
And, while the bowl of rice isn't optional when it comes to donburi, the toppings are. You can really simmer up a combination your family is sure to enjoy and, as long as it gets served over Japanese rice, it's basically a donburi!
Some other popular varieties of donburi are Gyūdon (牛丼), the beef bowl with simmered onions, famously served at popular Japanese fast food chains – and Oyakodon (親子丼), the chicken and scallion loaded eggy rice bowl that almost resembles an omelette.
Fun fact: Donburi (丼) literally translates into 'bowl.'
A JAPANESE RICE BOWL EVERYONE WILL LOVE
Looking for compatible recipes with rice, but want to make sure dinner will be a hit with everyone around the table? This shrimp and zucchini loaded donburi recipe is sure to make some happy tummies at your house!
The shrimp, potatoes and zucchini get a savory treatment from soy and dashi – which is met in the middle by the sweetness from a bit of sugar and mirin. The flavor in this balanced Japanese recipe is assertive without being overpowering.
And it's the ultimate rice bowl recipe for that batch of perfect Japanese rice you just whipped up in your rice cooker.
Itadakimasu! 🍲😋
Products used in this recipe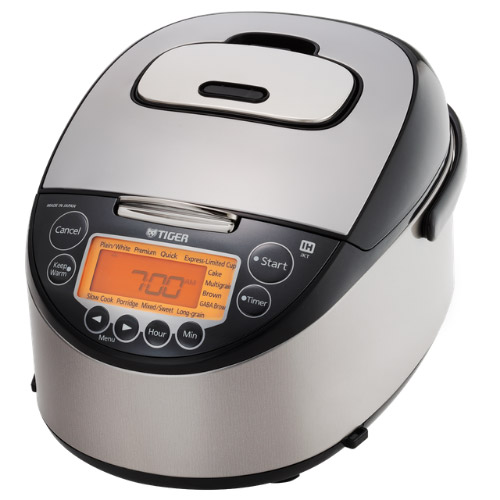 Induction Heating Rice Cooker JKT-D10U/18U
Made in Japan The TIGER JKT-D multi-functional induction heating (IH) electric rice cooker allows yo […]
LEARN MORE