Rice Cooker
Rice Cooker Tofu Red Curry
Need a spoonful of fiery, pungent curry in your life? Dig into this rice cooker tofu red curry recipe for a real taste of Southeast Asia!
Servings

3-4

Preparation

15 min

Cooking

45 min
Ingredients
2 tbsp Vegetable oil
4 Garlic cloves, minced
2-3 tbsp Red curry paste (use 3 if you like your curry very spicy)
2 ½ cup Vegetable broth
3 tvbsp Fish sauce
1 ½ tbsp Brown sugar, or turbinado sugar
½ cup Sliced bamboo shoots
1 Red bell pepper, cored, and julienned
1 Block firm tofu (12-14 ounces), drained and cut into cubes
1 cup Coconut milk
2-3 tbsp Fresh lime juice (optional)
Directions
Place the oil, garlic, curry paste, vegetable broth, fish sauce, and brown sugar, in the rice cooker inner. Stir until the curry paste has combined with the broth. 
Add the bamboo shoots, bell pepper, and tofu cubes, and stir.
Close the lid and select the [Slow Cook] function. Set the timer for 45 minutes and press start. 
When there's 15 minutes left to the cooking process, open the lid and stir in the coconut milk. Close the lid and continue cooking.
When the cooking is done, open the lid and stir in the lime juice. Serve.
TOFU RED CURRY: AN EASY THAI INFLUENCED RICE COOKER RECIPE
At the end of a long day, it's really the best to dig into a dinner that transports you to another part of the world. Bonus points if that dinner is easy to make.
Well, we've got a Thai curry recipe that's loaded with tofu and veggies that will hit you full-force with the iconic flavors of red curry paste, coconut milk and fish sauce.
Bamboo shoots and red bell pepper provide a gorgeous crunch that contrasts the pillowy yet firm tofu. And if you'd like to add chicken or shrimp to this Thai inspired curry recipe, that would totally work as well.
Now, we've kept this tofu red curry on the milder side of things – but if you need a little fire, you could always add 2-3 sliced Thai chilis. Careful though – Thai bird chilis are SPICY! A little goes a long way.
But, aside from the enticing flavor, we think you're going to love how easy it is to make this recipe in your rice cooker.
HOW TO MAKE RED CURRY TOFU IN A RICE COOKER
Place your veggie broth, fish sauce, brown sugar, garlic and oil into the inner pot of your Tiger multifunctional rice cooker. Stir in the red curry paste until it has dissolved completely.
Then add the bean curd cubes, sliced green peppers and bamboo shoots.
Next, select the Slow Cook function for 45 minutes and press the Start button. Add your coconut milk when there's 15 minutes of cook time left.
Just before serving, add a splash of lime juice. It's the perfect finisher for a curry that's sour, spicy, sweet and savory. Enjoy!
Products used in this recipe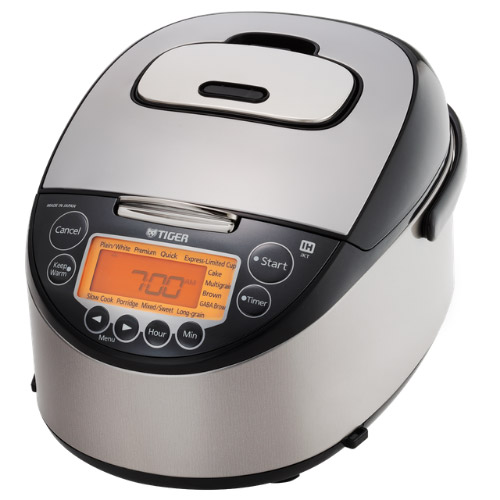 Induction Heating Rice Cooker JKT-D10U/18U
Made in Japan The TIGER JKT-D multi-functional induction heating (IH) electric rice cooker allows yo […]
LEARN MORE