Rice Cooker
Chicken Curry Soup
Chicken curry soup is the ultimate comfort food! Make this easy curry soup recipe at home in just 45 minutes from start to finish in your rice cooker.
Servings

3-4

Preparation

15 min

Cooking

45 min
Ingredients
750ml water
1 ½ premix curry roux square 
1 tablespoon curry powder
1 tablespoon soy sauce
1 teaspoon powdered chicken stock
1 medium potato, peeled and chopped
1 medium carrot, chopped
½ small onion, finely chopped
½ green bell pepper, chopped
2 chicken drumsticks
Cooked rice, to serve with
Directions
Add all the ingredients, except the cooked rice, to the rice cooker inner pot and mix well. 
Close the lid and choose the [Slow Cook] function. Set the timer to 45 minutes and press start.
Serve with cooked rice.
A SIMPLE TO MAKE CURRIED CHICKEN SOUP
Is there anything that screams comfort food more than soup? We don't think so.
And whether it's a rustic white bean and ham soup or a fiery Thai hot and sour soup recipe, the soothing flavors of home come through in a bowl of soup with nostalgic ferocity and utter deliciousness.
And nowhere is that home-cooked goodness more apparent than in this chicken curry soup.
We're using both curry powder – and a square of Japanese curry roux – to power this curry soup. The mixture adds spice without being simply spicy. Powdered chicken stock and a dash of soy sauce both deliver deep savory notes to the broth.
You'll only need a potato, a carrot, a small onion and half a green bell pepper to introduce some veggie heft to the chicken curry soup.
We're using whole chicken drumsticks as the protein. The homespun effect of the drumsticks is in line with the rough and ready approach to curries in general. But feel free to use the cut of chicken you like best at your house!
In our opinion, curry goes best with rice. If you're wondering how to make rice in a rice cooker, it's about as easy as it gets.
But it may also surprise you that you can make this chicken curry soup recipe in your rice cooker as well!
HOW TO MAKE CHICKEN CURRY SOUP IN A RICE COOKER
Just add all of your soup ingredients to the inner pot of your Tiger multifunctional rice cooker and mix well.
Then close the lid, select the Slow Cook function for 45 minutes and press the Start button.
That's pretty much it! Your curried chicken soup will be infused with flavor in a relatively short amount of time – and there's no need to take care of a bubbling soup pot on the stovetop.
We love serving curry soup with rice. What's your favorite way to eat curry?
Products used in this recipe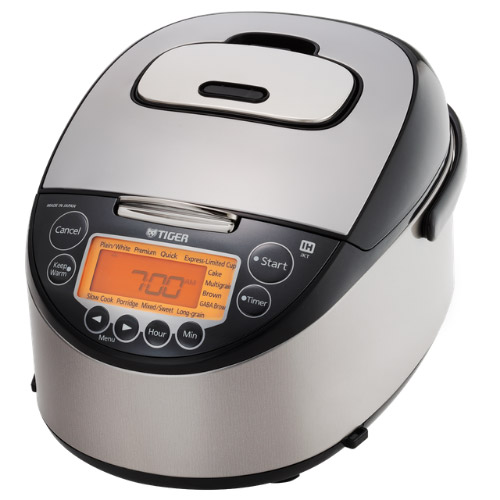 Induction Heating Rice Cooker JKT-D10U/18U
Made in Japan The TIGER JKT-D multi-functional induction heating (IH) electric rice cooker allows yo […]
LEARN MORE