Rice Cooker
Thai Hot and Sour Soup
This Thai influenced hot and sour soup has all the flavors! Make this delicious soup anytime you need a little sour, salty, sweet-heat in your life!
Servings

3-4

Preparation

10 min

Cooking

45 min
Ingredients
4 cups chicken broth
5 ounces tofu cutlets or extra firm tofu, drained and cut into bite size pieces
5 small shallots, peeled and sliced in half
4 button mushrooms, chopped 
1 or 2 dried chilies
2 tablespoons fish sauce
1 tablespoon lemon juice
1 teaspoon granulated sugar
2 to 3 tablespoons fresh shredded basil
Directions
Put the chicken broth, tofu cutlets, shallots, mushrooms, and chilies, in the rice cooker inner pot and stir. 
Close the lid and select the [Slow Cook] function. Set the timer to 45 minutes and press start.
When the cooking is done, open the lid and stir in the fish sauce, lemon juice, sugar, and basil. Serve.
THE EASIEST THAI INFLUENCED HOT AND SOUR SOUP RECIPE
Sometimes you just need a little Thai food in your life.
And many times the prospect of cooking something outside our wheelhouse of easy favorites has us reaching for the phone to check the delivery apps.
Well, when it comes to this easy Asian soup recipe, you can safely put the phone down and roll your sleeves up. Because this simple hot & sour soup recipe is as easy as it gets!
We're using chicken broth for a savory base – and adding dried chilis, fish sauce, lemon juice and a bit of sugar to really fortify that complex and delicious Thai flavor lexicon.
For substance, we like using sliced button mushrooms, shallots and firm tofu cutlets. Bonus if you can find smoked or fried tofu cutlets!
But, ultimately, what you use in your own homemade Thai soup is up to you. We make suggestions, you make decisions! It would be great with chicken or shrimp as well… your choice.
But no matter what protein you use, you're going to love how easy it is to make this yummy Thai influenced soup in your rice cooker.
HOW TO MAKE HOT AND SOUR SOUP IN A RICE COOKER
To start, simply add the chicken broth, tofu, shallots, mushrooms and chilis into the inner pot of your Tiger multifunctional rice cooker.
Next, close the lid and select the Slow Cook setting for 40 minutes – and press the Start button.
Once the cooking cycle is complete, open the lid and add your fish sauce, sugar and lemon juice and stir well.
Serve with fresh basil and dig in!
Products used in this recipe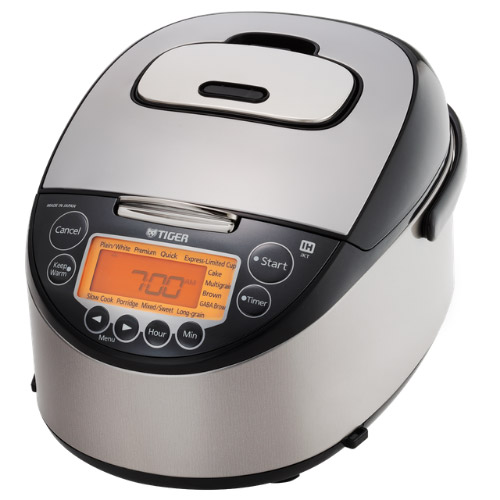 Induction Heating Rice Cooker JKT-D10U/18U
Made in Japan The TIGER JKT-D multi-functional induction heating (IH) electric rice cooker allows yo […]
LEARN MORE