Rice Cooker
Tofu Kimchi Soup
Need a little fire in your life? Make this easy tofu kimchi soup in your rice cooker. This fiery Korean soup is full of flavor – and will warm you up from the inside out!
Servings

3-4

Preparation

10 min

Cooking

60 min
Ingredients
2 cups Kimchi, chopped
2 Scallions, chopped
4 cups Chicken broth
300-oz Silken tofu, drained and sliced into cubes
1.5 oz (42 grams) Rice vermicelli noodles
Directions
Place the kimchi, scallions, and chicken broth in the rice cooker's inner pot and choose the [Slow Cook] function.
Set the timer to 60 minutes and press Start.
When the cooking process is done, add silken tofu and vermicelli noodles and close the lid. Leave for 5 minutes.
Check the the texture noodles. If they are still crunchy, close the lid for an additional 2-3 minutes.
Serve in a bowl.
WHAT IS KIMCHI?
Kimchi is a Korean preparation of fermented and salted vegetables that typically contains napa cabbage and radish. A savory, spicy and funky flavor profile is created by the use of Korean hot pepper flakes (gochugaru), fish sauce, ginger and garlic.
This fermented food is not only delicious, but thankfully fairly easy to track down in most grocery stores these days.
And it just happens to provide the lion's share of flavor to this tofu studded Korean stew / soup.
There's heat and brightness from the kimchi – mixed with the savory notes of chicken broth. Vermicelli noodles add the perfect amount of chewy, toothy goodness – and silken tofu delivers just the right amount of heft to the meal.
You might just think of this kimchi soup as a simplified version of a traditional Korean recipe like kimchi jjigae or soondubu jjigae.
And it's so easy to make in your rice cooker!
HOW TO MAKE KIMCHI SOUP IN A RICE COOKER
To get started, simply place all the ingredients (EXCEPT the noodles and tofu) into the inner pot of your Tiger multi-functional rice cooker and select the Slow Cook setting. Cooking for 60 minutes will let the deep and soulful flavors develop – while freeing you up to work on other elements of your meal (or grab a book and a glass of wine!).
Once the timer sounds off, just add your silken tofu cubes and vermicelli noodles and close the lid for a few minutes. The heat from the soup will provide all the cooking necessary for those delicate additions.
You're going to love the flavor!
Products used in this recipe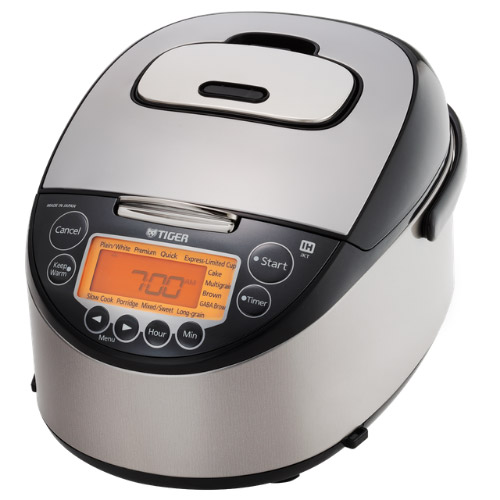 Induction Heating Rice Cooker JKT-D10U/18U
Made in Japan The TIGER JKT-D multi-functional induction heating (IH) electric rice cooker allows yo […]
LEARN MORE