Rice Cooker
Slow Cooker Chickpea Soup
Let's make soup! This homestyle slow cooker chickpea soup is bright, savory and oh-so-delicious. Make it with minimal fuss in your rice cooker!
Servings

3-4

Preparation

20 min

Cooking

120 min
Ingredients
2 15-oz Cans chickpeas, drained 
1 15-oz Can diced tomatoes
1 Small onion, finely chopped
2 Celery stalks, finely chopped
2 Carrots, chopped bite size
¼ tsp Dried thyme
1 tsp Kosher salt
½ tsp Ground black pepper
4 cups Water
1 cup Shredded Parmesan cheese
2 tbsp Extra virgin olive oil
Juice of 1 lemon
Directions
Add chickpeas, diced tomatoes, onion, celery, carrots, thyme, salt, pepper, and water, to the rice cooker's inner pot and stir.
Choose the [Slow Cook] function and set the timer to 120 minutes. Press start.
In a mixing bowl, add Parmesan cheese, olive oil, and lemon juice. Stir and set aside.
Serve the soup with a scoop (or more) of the cheese mixture.
ADD THIS CHICKPEA SOUP TO YOUR ARSENAL OF SIMPLE SOUP RECIPES
Slow cooker soups are the best. We love the luxury of mixing a bunch of simple pantry ingredients together, pressing a button – and then moving on with our day.
The flavors that come to the forefront when you cook slow-and-low tend to be fully developed – and super comforting (especially when making soups and stews).
Well, this garbanzo bean soup just happens to be one of our favorite chickpea recipes of all time…. And with good reason. It's absolutely packed with home-style goodness!
You see chickpeas have a nutty flavor that melds so well with aromatics like onion and celery. Thyme adds an herbaceous note – and diced tomatoes introduce a bit of acidity and brightness to the mix.
It's a soup so yummy that the whole family will be asking for seconds. And the only thing better than the savory and bright flavors is how easy it is to make from scratch!
HOW TO MAKE CHICKPEA SOUP IN A RICE COOKER
Simply add all the soup ingredients to the inner pot of your Tiger rice cooker, select the Slow Cook setting for 2 hours and press the Start key. It's so easy!
But there's a secret to this vegetarian soup that will send the flavor into the stratosphere…
While your chickpea soup is cooking away, mix a bit of shredded Parmesan cheese with olive oil and lemon juice. Once your soup is finished, top each bowl with a bit of that tart and umami mixture just before serving. Your tastebuds will thank you😋
Bon appétit! 🍲
Products used in this recipe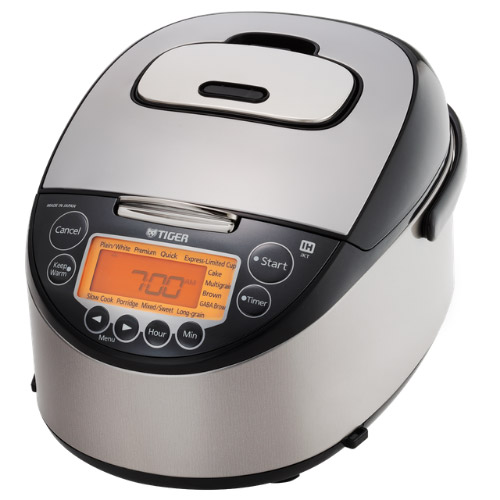 Induction Heating Rice Cooker JKT-D10U/18U
Made in Japan The TIGER JKT-D multi-functional induction heating (IH) electric rice cooker allows yo […]
LEARN MORE