Rice Cooker
Minestrone Soup
Let's make minestrone soup! Loaded with vegetables and pasta, this delicious and iconic Italian soup is ready in no time when you use your rice cooker!
Servings

3-4

Preparation

20 min

Cooking

120 min
Ingredients
3-cup Chicken broth
1 (15 oz) can Diced tomatoes
1 (15 oz) can Kidney beans, drained
2 Carrots, peeled and chopped
1 Celery stalk, chopped
1 cup Onion, chopped
1 tsp Dried thyme
2 Bay leaves
2 cups Penne pasta (can be substituted with other small pasta)
2 Zucchini, chopped
2 cups Chopped spinach
4 tbsp Grated parmesan
Salt and pepper
Directions
Insert chicken broth, tomatoes, beans, carrots, celery, onions, thyme, bay leaves and salt and pepper in the inner pot.
Place inner pot in the rice cooker. Select [Slow Cook] menu and set for 120 minutes. Press [Start] key.
Cook the pasta separately as al dente, boiling 1-2 minutes earlier than instructed time.
Once complete, insert zucchini and spinach and cook again for 30 minutes. Insert the past in the last 5 minutes.
Serve the soup in bowl and sprinkle Parmesan cheese over top. Sprinkle salt and pepper if needed for more flavor.
WHAT IS MINESTRONE SOUP?
Minestrone soup is an Italian soup, typically made with vegetables and pasta (or rice). While there are no set recipes for minestrone, common veggies include carrots, onions, zucchini, beans and tomatoes.
Not only is it healthy, it's an absolute cornucopia of flavors and textures.
Now while we've used chicken broth as the savory base of our soup, you could easily make a vegan minestrone soup by substituting vegetable broth and omitting the sprinkling of Parmesan cheese at the end.
It's a delicious soup no matter how you make it!
HOW TO MAKE SOUP IN A RICE COOKER
Ever wonder how to make minestrone soup in a slow cooker? It's super easy. And, luckily, it's just as simple to whip up this minestrone recipe in your Tiger rice cooker.
Slow Cook preset to the rescue!
You see, your Tiger multi-functional rice cooker is equipped with a ton of computerized menu settings that can help make your dinner stress-free. The slow cook setting is fantastic for soups, stews and heartier braised meat dishes.
To make this iconic Italian minestrone soup, simply follow the easy instructions in the recipe tab on this page. To make sure everything is perfectly cooked, you'll add your zucchini and spinach when there's about 30 minutes left. And add your al dente pasta to the mix when there's 5 minutes left on the clock.
Sprinkle a bit of grated Parmesan in each soup bowl and serve. We think you're going to love it!
Buon appetito!
Products used in this recipe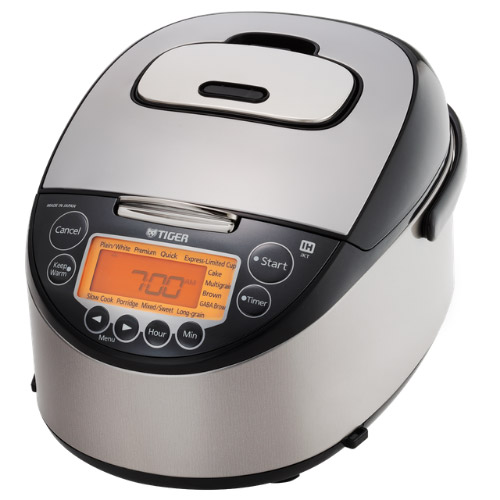 Induction Heating Rice Cooker JKT-D10U/18U
Made in Japan The TIGER JKT-D multi-functional induction heating (IH) electric rice cooker allows yo […]
LEARN MORE