Rice Cooker
Chicken and Brown Rice Soup
Craving a healthy, hearty and easy soup for dinner? Well, look no further than this savory chicken and brown rice soup recipe. We know that you're going to love the flavor AND how simple it is to make from scratch!
Servings

3-4

Preparation

10 min

Cooking

120 min
Ingredients
4 medium carrots
 3 medium celery stalks
 ½ medium yellow onion
 2 cloves garlic
1 tsp kosher salt
 1/2 tsp black pepper
 1 cup brown rice
1 ½ lbs boneless, skinless chicken breasts or thighs
 6–8 cups chicken stock 
 1 bay leaf
 6 sprigs fresh thyme
 2 tbsp fresh lemon juice
Directions
Peel and dice carrots, celery and yellow onion into bit-size pieces. Mince the garlic cloves. Cut the chicken into 2-inch size pieces.
Place the vegetables in the inner pot of the rice cooker. Sprinkle the salt and pepper. Add rinsed brown rice and then chicken on top. Pour in 6 cups of chicken stock. Add bay leaf and thyme.
Place inner pot in the rice cooker. Select [Slow Cook] menu and set for 120 minutes. Press [Start] key.
Once complete, check if the chicken and rice is completely cooked and if not, cook for additional time if necessary.
Serve in a bowl and squeeze lemon juice on top to add more flavor.
AN EASY SOUP RECIPE FOR THOSE TIMES YOU JUST NEED CHICKEN SOUP
Chicken soup is one of those recipes that simply seems too easy to make to actually produce the mountains of comforting home-cooked flavor that it has. We guess some ingredients are just destined to be together!
This chicken soup with rice is a simple medley of aromatic veggies like carrots, celery, onions and garlic – mixed with healthy chicken breast and broth… the usual suspects when it comes to hearty and warming chicken soup. But we've added flavor accents like fresh thyme and bay leaf for little pops of garden freshness.
And our big secret ingredient in this easy chicken soup is a couple tablespoons of freshly squeezed lemon juice. The brightness it introduces to this otherwise savory soup can't be overstated. It's wonderful!
Now, you'll only need a cup of brown rice for this healthy rice cooker soup. The heartiness of the grains hold up a bit better than jasmine rice in the cooking soup – and the nutty flavor is an absolutely great addition!
Aside from the fantastic flavor, we think you're also going to love how easy it is to make in your rice cooker.
HOW TO MAKE CHICKEN SOUP IN A RICE COOKER
Making soups in your Tiger rice cooker is as easy as popping a few ingredients in the inner pot, selecting the Slow Cook setting and pressing the Start key.
And we take definitely soup seriously! From this herbaceous coriander fish soup to this exotic Indonesian style chicken soup to a thoroughly French pot-au-feu, there isn't a delicious soup recipe we won't try making in our multi-functional rice cookers.
So get to chopping your veggies! This warming, savory and bright chicken and rice soup will be ready in the press of a button!
Products used in this recipe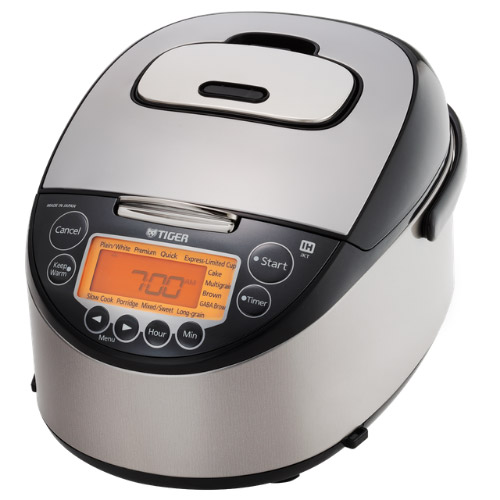 Induction Heating Rice Cooker JKT-D10U/18U
Made in Japan The TIGER JKT-D multi-functional induction heating (IH) electric rice cooker allows yo […]
LEARN MORE