Rice Cooker
Coriander Fish Soup
Make this savory, bright and fresh coriander fish soup with just a few humble ingredients. And since you'll be using your rice cooker, dinner will be ready in the press of a button!
Servings

3-4

Preparation

20 min

Cooking

40 min
Ingredients
1/3 lbs White fish
1 bunch Coriander (cilantro)
3-inch Ginger
Salt for flavor
5 cup Water
1 tsp Sesame oil
½ tsp Salt
White pepper for flavor
Directions
Slice the white fish and mix the slices with the condiments. Pickle in the refrigerator for a few hours.
Cut the coriander into halves. Slice the ginger.
Put the picked fish and condiments, coriander and ginger in the inner pot. Add water. Set the inner pot in the rice cooker an select the [Slow Cook] menu. Set the heating time to 40 minutes and press the [Start] key.
When cooking is complete, season with salt and serve into a bowl.
A DELICIOUS FISH SOUP RECIPE
What's better than delicate, flaky fish fillets served with garden fresh herbs in a savory, nutty and fragrant broth?
If you said not much, well… we like how you think!
This fish soup is both simple in the ingredients department – and SUPER-simple when it comes to cooking.
And, aside from the exquisite flavor of a good white-fish, there is a wonderful herbaceous punch from the fresh coriander.
WHAT IS CORIANDER?
Coriander is a plant that has leaves and stems that taste bright, fragrant and tart (almost the essence of lemon/lime flavored parsley).
And while coriander is also known as Chinese parsley, it is most famously known in the West as cilantro.
HOW TO MAKE FISH SOUP IN A RICE COOKER
Now, your rice cooker may not be the first kitchen appliance you think of when whipping up a humble fish soup.
Well, we're here to change all that!
Because whether you're making this salmon loaded seafood chowder, or a hearty fish stew – or even this Hokkaido favorite salmon chanchan-yaki – your Tiger rice cooker has cooking presets that treat delicate fish gently while cooking the other ingredients to perfection at the same time.
It's a touch of magic and quite a bit of science that make your multi-cooker so dang capable when it comes to taking the guesswork out of dinner prep!
Therefore, for this easy fish recipe, simply marinade your fish fillets in a bit of sesame oil, salt and white pepper. If you let it sit in the fridge for a couple of hours, the fish and broth will be so so SO delicious.
Then simply load your ginger, cilantro (coriander) water and marinated fish fillets into the inner pot of your rice cooker. Use the Slow Cook setting for 40 minutes.
And presto… dinner is served!
Products used in this recipe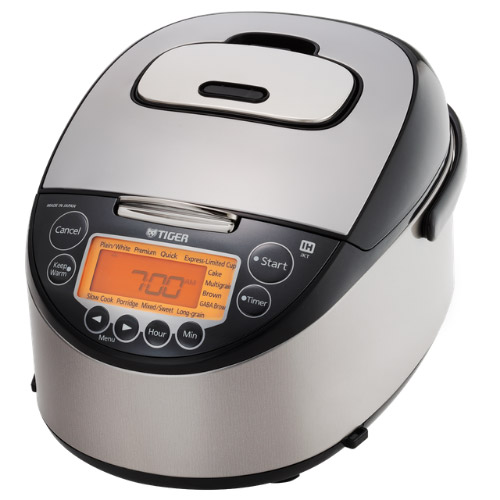 Induction Heating Rice Cooker JKT-D10U/18U
Made in Japan The TIGER JKT-D multi-functional induction heating (IH) electric rice cooker allows yo […]
LEARN MORE