Rice Cooker
Salmon Chowder
As the winter temperatures continue to dive, we turn to food to even the scales.
There's just something warming and wonderful about a thick fish chowder, or a salmon stew on a cold winter's day.
Not only does it hit the spot from a flavor perspective, it fortifies you against the arctic chill in the air.
The first bite you take of this delicious salmon chowder recipe will transport your taste buds to a bustling New England fishing village – all from the comfort of your cozy home.
Rice Cooker Setting: Slow Cook
Servings

3-4

Preparation
Cooking
Ingredients
1 lb (400 g) Salmon fillet
Salt and pepper for flavor
4 Potatoes
1 (1/4 lb / 120 g) Carrot
1 Onion
1/3 crown Broccoli
2 Chicken soup stock cubes
3-1/3 cups (800 ml) Water
1-2/3 cups (400 ml) Milk
4 tbsp Butter
4 tbsp Flour
Finely-chopped parsley for garnish
Directions
Cut the salmon into large bite-size pieces and season it with salt and pepper. Cut the vegetables into bite-size pieces.
Place the crushed chicken soup stock cube with water in the inner pot, add the vegetables other than the broccoli and heat for 30 minutes with the "Slow Cook" menu.
Melt the butter in a frying pan, dredge the salmon with flour and then fry it. Add the milk and saute. Be careful not to deform the salmon.
Add the salmon and broccoli to the inner pot and then heat for 10 more minutes with the "Slow Cook" menu.
When cooking is complete, season with salt and pepper and serve in a bowl. Sprinkle with finely chopped parsley.
WHAT IS A CHOWDER?
A chowder is a milk or cream based soup or stew. And while a clam and diced potato loaded New England clam chowder is one of the most iconic and famous chowders around, chowder can be made with a vast and varied ingredients list.
Seriously, you can use anything from clams to vegetables to mixed seafood to corn – and pretty much anything in between.
For this savory and creamy chowder, we're using salmon, potatoes and broccoli.
Not only is it a healthy trinity of ingredients, it brings the flavor in a big-time way!
HOW TO MAKE SALMON CHOWDER IN A RICE COOKER
We think that (aside from eating this creamy, thick salmon soup) this is the part you're really going to like!
You see, you can use the inner pot of your Tiger rice cooker to prepare the soup stock and vegetables for your very own salmon chowder.
Now, while you could just cook everything in the rice cooker and be done with it, for this easy salmon recipe we recommend that you dredge the fish in flour and fry it in a saute pan.
This imparts a wonderful caramelization to the outside of your salmon – and gives you fine-tooth controls over the doneness of the fish.
It's a simple step that results in perfect flavor and texture for your salmon.
But, hey – your call!
If you do cook the salmon separately for this thick and creamy chowder recipe, simply add the pan fried salmon and broccoli to the rest of your soup components in your rice cooker for 10 minutes before serving.
We promise, you're going to love it!
Products used in this recipe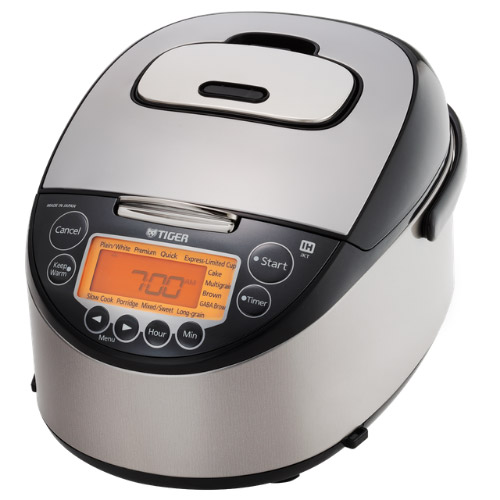 Induction Heating Rice Cooker JKT-D10U/18U
Made in Japan The TIGER JKT-D multi-functional induction heating (IH) electric rice cooker allows yo […]
LEARN MORE