Rice Cooker
Pot-au-Feu (French Stew)
When the frigid winter winds blow, there's nothing better than a bowl of stew to set things right.
Hey, an arctic blast stands no chance against a rustic, simmered stew of meat and vegetables!
This French pot-au-feu is one of the original one pot meals!
And whether you go with the classic beef, or opt for pork in this updated version, you're going to love the savory and warming flavors this hearty stew delivers.
Servings

3-4

Preparation

10 min

Cooking

90 min
Ingredients
3/4 lb (300 g) Pork shoulder
1 Onion (small)
1 Carrot (medium)
2 Potatos (small)
1 Celery
Black pepper for flavor
 3 cups (720 ml) Water
1/2 Soup stock cube
1 tsp Salt
Directions
Cut the onion into quarters and the carrot lengthwise into thirds. Remove the strings from the celery and cut it into quarters. Cut the potato into halves.
Cut the pork into 1 inch (2.5 cm) cubes.
Place the vegetables and pork in the inner pot. Add condiments and then mix together.
Place the inner pot in the rice cooker and cook the ingredients for 90 minutes with the "Slow Cook" menu.
When cooking is complete, place the dish on a serving plate.
WHAT IS POT-AU-FEU?
Historically, pot au feu is a French beef stew.
Sometimes referred to as a hunter's stew or a perpetual stew, root vegetables like potatoes, carrots and onions are simmered with meat.
And while this French stew typically calls for beef, we've adapted this recipe a bit and used pork shoulder.
You see, the natural savory smokiness of pork delivers a hearty, assertive flavor to the broth within a relatively short time.
Fun fact: pot au feu in French translates roughly to 'pot on the fire'.
Now, while pot-au-feu is deeply rooted in French cuisine, we'd argue that many cultures around the world have a simmered meat and veggie dish in their cultural food lexicon.
So whether it's this French pot au feu, an Italian bollito misto – or a Japanese nikujaga recipe, you don't have to span the globe too far to get your simmered winter veggies and meat fix! 🍲
HOW TO MAKE SLOW COOKER POT AU FEU IN A RICE COOKER
We've taken this slow cooked French stew – and sped things up a bit.
You see, your Tiger multi cooker has a Slow Cook setting that is tailor made for getting deep flavors within a relatively short cooking time.
Simply load all the ingredients for your pork based pot-au-feu in the inner pot of your rice cooker and slow cook for 90 minutes.
That's it!
Easy, right?!
This hearty French perpetual stew tastes like it's been simmering on the stove-top for the better part of a day. No one has to know how quick and easy it was to whip up.
But regardless of how easy it is to make, this French stew warm you from the inside out this winter!
Bon appétit!
Products used in this recipe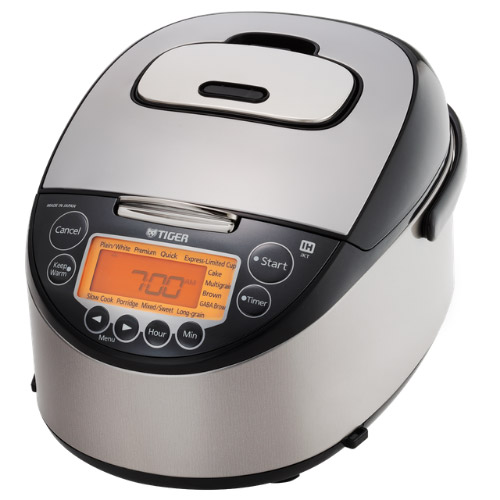 Induction Heating Rice Cooker JKT-D10U/18U
Made in Japan The TIGER JKT-D multi-functional induction heating (IH) electric rice cooker allows yo […]
LEARN MORE